Becoming Adult, Becoming Christian: Adult Development and Christian Faith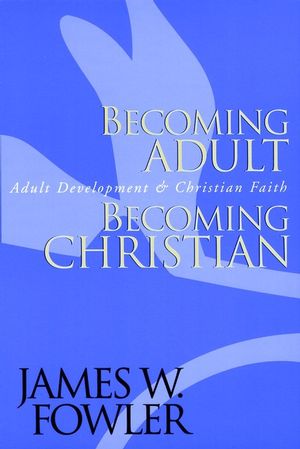 Becoming Adult, Becoming Christian: Adult Development and Christian Faith
ISBN: 978-0-787-95134-4 November 1999 Jossey-Bass 144 Pages
Description
In this updated reissue of his 1984 classic, James Fowler applies his groundbreaking research on the development of faith to Christianity. In his revised first chapter Fowler locates his approach to the study of human and faith development in relation to the contemporary conversation about identity and selfhood in postmodernity. Fowler invites readers to explore what it means to find and claim vocation: a purpose for one's life that is part of the purposes of God. Reclaiming covenant and vocation as ideals for responsible, mature, Christian selfhood, Fowler shows how a dynamic understanding of what vocation involves can both inform and transform lives.
Table of contents
Introduction.

ADULT DEVELOPMENT THEORIES AND THE CRISIS OF VOCATION.

The Crisis in Vocational Ideals.

Images of Good Man/Good Woman in Ferment.

From "Ideological Tepee" to Proteus: Continuity and Change.

Adult Developmental Theorists as Philosophers and Gossips.

DEVELOPMENTALISTS AS PHILOSOPHERS AND GOSSIPS.

Developmentalists as Philosophers and Gossips (E. Erikson).

Toward Generative Adulthood (D. Levinson).

Seasons and Wisdom (C. Gilligan).

TWO PATHS TO RESONSIBLE SELFHOOD.

Faith Development Theory and the Human Vocation.

Taking Stock.

Faith, A Focus for Research.

Stages of Faith and Human Becoming.

FAITH DEVELOPMENT THEORY AND THE HUMAN VOCATION.

Adulthood, Vocation, and the Christian Story.

The Christian Classic and Its Narrative Structure.

Christian Faith and the Human Vocation.

The Challenge of Vocation.

Vocation vs. Destiny, or Beyond Self-Actualization.

CHRISTIAN COMMUNITY AND ADULTHOOD.

Self and Others: From Destiny to Vocation.

Vocational Existence and Christian Community.

The Christian Story, Passion, and Affections.

Virtues and Vocation.

BECOMGING ADULT, BECOMING CHRISTIAN.

Studies in Vocation.

Vocation and the Stories of Our Lives.

Development and Conversion.

Becoming Adult, Becoming Christian.

Acknowledgments.

Index.
Reviews
"Here we have Fowler's own and explicitly Christian word on theinterface of faith development research and the particularity ofChristian covenant/vocation. A gift to us and an invaluableresource." --Thomas H. Groome, professor of theology and religiouseducation, Boston College

"No one, we believe, has provided more valuable scientific findingsand theoretical formulations for those whose care for others isfocused principally on the growth of the spirit, and of the personas a whole, than James. W. Fowler." --James J. Gill,editor-in-chief, Human Development

"Becoming Adult, Becoming Christian is an excellent resource forpastoral ministers and religious educators, offering practicalinsights based upon solid research." --Barbara J. Fleischer,director, Loyola Institute for Ministry, Loyola University