Business Model Generation: A Handbook for Visionaries, Game Changers, and Challengers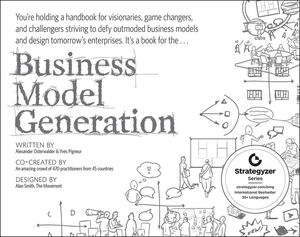 Business Model Generation: A Handbook for Visionaries, Game Changers, and Challengers
ISBN: 978-0-470-87641-1 June 2010 288 Pages
Description
You're holding a handbook for visionaries, game changers, and challengers striving to defy outmoded business models and design tomorrow's enterprises. It's a book for the business model generation.

Disruptive new business models are emblematic of our generation. Yet they remain poorly understood, even as they transform competitive landscapes across industries. Business Model Generation offers you powerful, simple, tested tools for understanding, designing, reworking, and implementing business models.

Business Model Generation is a practical, inspiring handbook for anyone striving to improve a business model - or craft a new one.

CHANGE THE WAY YOU THINK ABOUT BUSINESS MODELS

Business Model Generation will teach you powerful and practical innovation techniques used today by leading companies worldwide. You will learn how to systematically understand, design, and implement a new business model — or analyze and renovate an old one.

CO-CREATED BY 470 STRATEGY PRACTITIONERS

Business Model Generation practices what it preaches. Coauthored by 470 Business Model Canvas practitioners from forty-five countries, the book was financed and produced independently of the traditional publishing industry. It features a tightly integrated, visual, lie-flat design that enables immediate hands-on use.

DESIGNED FOR DOERS

Business Model Generation is for those ready to abandon outmoded thinking and embrace new, innovative models of value creation: executives, consultants, entrepreneurs — and leaders of all organizations.
1 Canvas
14 Definition of a Business Model
16 The 9 Building Blocks
44 The Business Model Canvas
2 Patterns
56 Unbundling Business Models
66 The Long Tail
76 Multi-Sided Platforms
88 FREE as a Business Model
108 Open Business Models
3 Design
126 Customer Insights
134 Ideation
146 Visual Thinking
160 Prototyping
170 Storytelling
180 Scenarios
4 Strategy
200 Business Model Environment
212 Evaluating Business Models
226 Business Model Perspective on Blue Ocean Strategy
232 Managing Multiple Business Models
5 Process
244 Business Model Design Process
Outlook
262 Outlook
Afterword
274 Where did this book come from?
276 References