Call Centers For Dummies®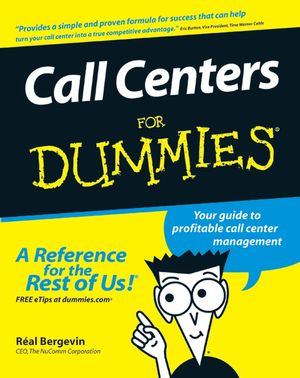 Call Centers For Dummies®
ISBN: 978-0-470-83549-4
May 2005
384 pages
Product not available for purchase
Description
A fun and simple guide to improving call center management and response
Call Centers For Dummies serves as the ideal resource for call center managers. Concentrating on revenue generation, efficiency, and customer satisfaction, it helps managers improve their results and affect their company's bottom line. With new tools and tactics specifically designed for call center managers, Call Centers For Dummies helps put a value on customer relations efforts undertaken in call centers and helps managers implement new strategies for continual improvement of customer service.
Introduction
PART I: FROM THE GROUND UP: AN OVERVIEW OF THE CALL CENTER.
Chapter 1. A First Look At Call Centers
Chapter 2. Business Basics: Models and Drivers and Goals, Oh My!
Chapter 3. Developing the Cast of Characters.
Chapter 4. Building A Call Center of Your Own
PART II: THE MASTER PLAN: FINANCE, ANALYSIS, AND RESOURCE MANAGEMENT.
Chapter 5: Analyze This!
Chapter 6. Right People, Right Place, Right Time: Resource Management.
Chapter 7. Call Center Scheduling: As Simple as 1, 2, 3…
PART III: MAKING LIFE BETTER WITH TECHNOLOGY.
Chapter 8. Making it Go: An Introduction to Call Center Technology
Chapter 9. Technological Enhancements: Getting the Newest & Coolest Stuff!
PART IV: ENSURING CONTINUOUS IMPROVEMENT'.
Chapter 10. Managing Agent Performance Part 1: Hiring and Training.
Chapter 11. Managing Agent Performance Part 2: Providing Feedback and Support.
Chapter 12. The Power of Process Management.
Chapter 13. Quality Programs: Ensuring Process Improvement. 
PART V: HANDLING THE CALLS: WHERE IT ALL COMES TOGETHER.
Chapter 14. "Thank You for Calling…": Call Handling Skills and Techniques.
Chapter 15. Calling-Handling Strategies and Tools.
Chapter 16. Handling Sales Calls.
PART VI: THE PART OF TENS.
Chapter 17. Ten Ways to Improve Agent Job Satisfaction.
Chapter 18. Ten Questions Every Call Center Manager Should Answer.
Chapter 19. Ten Ways to Improve Call Center Costs and Increase Efficiency.
Appendix 1: Glossary of Key Call Center Definitions and Concepts.
Appendix 2: Call Center Support Services.
Index.