Canadian Copyright Law, 4th Edition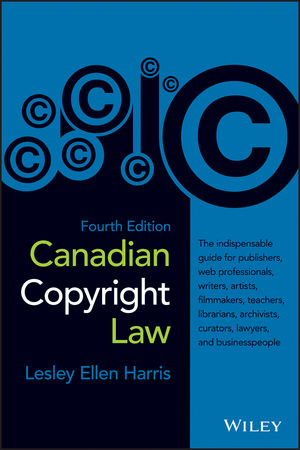 Canadian Copyright Law, 4th Edition
ISBN: 978-1-118-07851-8 October 2013 368 Pages
Description
An updated guide to Canadian copyright law
This Fourth Edition of Canadian Copyright Law brings you the latest updates according to new Canadian legislation and international agreements. Copyright infringement has always been illegal. Today with near-constant access to the Internet and the mainstream explosion of digital formats, copyright is one of the most important issues for creative professionals, consumers of that media, and those who work in related industries. The line between what is protected and what is "free" is blurring further, and the copyright issues are more complex than ever.
Addressing a range of new and pressing issues, the Fourth Edition of Canadian Copyright Law offers:
A complete update on copyright issues relating to digital media
An simple, unbiased, and straightforward explanation of the Canadian Copyright Act
Concrete examples of complicated matters pertaining to copyright laws
Whether you are a creator or user of copyright material, Canadian Copyright Law will keep you current on copyright law in Canada and its applications to your situation.
Table of contents
A Note on the Text xi
Preface xiii
Acknowledgements xv
Introduction xvii
Chapter 1 Understanding Intellectual Property 1
Chapter 2 Copyright Law in Canada 15
Chapter 3 Is Your Creation Eligible for Copyright Protection? 23
Chapter 4 Are Formalities Required to Obtain Copyright Protection? 35
Chapter 5 Canada and International Copyright Law 57
Chapter 6 What Is Protected by Copyright? 69
Chapter 7 Who Owns Copyright? 103
Chapter 8 The Duration of Copyright 123
Chapter 9 Rights Protected by Copyright 135
Chapter 10 Limitations on Rights 163
Chapter 11 How Can Rights Be Exploited? 195
Chapter 12 How Is Copyright Infringed? 213
Chapter 13 What Are the Remedies for the Infringement of Copyright? 225
Chapter 14 Legally Using Content 249
Chapter 15 An Overview of American Copyright Law 281
Appendix I: Copyright Act 295
Appendix II: Copyright Modernization Act 297
Appendix III: Application for Registration of a Copyright in a Work 299
Appendix IV: Application for Registration of a Copyright in a Performer's Performance, Sound Recording, or Communication Signal 303
Appendix V: Educational Program, Work, and Other Subject-Matter Record-Keeping Regulations 307
Appendix VI: Exceptions for Educational Institutions, Libraries, Archives, and Museums Regulations 313
Appendix VII: Reproduction of Federal Law Order 319
Appendix VIII: Application for Copyright Clearance of Government of Canada Works 323
Notes 329
About the Author 339
Index 341