Computation for the Analysis of Designed Experiments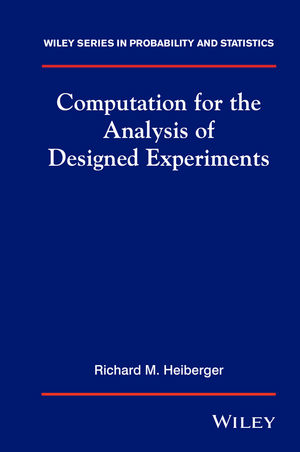 Computation for the Analysis of Designed Experiments
ISBN: 978-1-119-10287-8 February 2015 704 Pages
Description
Addresses the statistical, mathematical, and computational aspects of the construction of packages and analysis of variance (ANOVA) programs. Includes a disk at the back of the book that contains all program codes in four languages, APL, BASIC, C, and FORTRAN. Presents illustrations of the dual space geometry for all designs, including confounded designs.
Table of contents
COMPARATIVE STUDIES AND DESIGNED EXPERIMENTS.

Simple Designed Experiments.

PROGRAMMING SYSTEMS.

User-Level Considerations.

Design of Individual Programs.

Construction of Program Systems.

LEAST SQUARES AND ANALYSIS OF VARIANCE.

Projection and the Least Squares Method.

Geometry of Hypothesis Testing.

Algorithm Descriptions--Wilkinson's SWEEP.

Algorithm Description--Beaton's SWP.

Yates' Algorithm for Factorial Designs.

Matrix Decompositions.

INTERPRETATION OF DESIGN SPECIFICATIONS.

Algebra of Design Specification Statements.

Grammar for Design Specification Statements.

Programs for Compilation of Design Specification Statements.

ANALYSIS OF DESIGNED EXPERIMENTS.

Specification of Hypothesis Tests for Designed Experiments.

Blocking and Confounding.

Analysis of Covariance.

Generally Balanced Designs.

Appendix.

Bibliography.

Index.