Corporate Fraud and Internal Control Workbook: A Framework for Prevention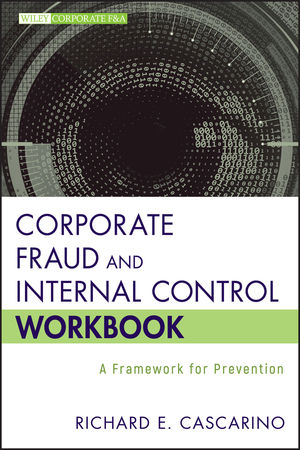 Corporate Fraud and Internal Control Workbook: A Framework for Prevention
ISBN: 978-1-118-31710-5 December 2012 192 Pages
Description
The ideal companion to CORPORATE FRAUD AND INTERNAL CONTROL
Designed for use with Corporate Fraud and Internal Control: A Framework for Prevention, this companion, self-study workbook provides you with the invaluable opportunity to explore your understanding of the appropriateness of your corporate system's design of internal controls in fraud risk mitigation. Corporate Fraud and Internal Control Workbook also enables you to fine-tune the mechanisms your organization needs to ensure effective implementation and monitoring on an ongoing basis.
Author and internationally renowned auditing consultant Richard Cascarino includes an organized work schedule in the form of tests, self-study worksheets, step-by-step exercises, and discussion-based case studies to test your knowledge of:
The nature of fraud
Elements of the crimes of theft and fraud
Fraud against individuals and the organization
Fighting corruption
The role of ethics in fighting fraud
Controlling fraud
Fraud risk management
Investigating fraud
Computer fraud and countermeasures
Industry-related fraud opportunities
Corporate Fraud and Internal Control Workbook equips you with the plans and strategies to deter, detect, and prove fraud utilizing your own in-house control mechanisms and systems of internal control. Filled with a wealth of practical learning exercises and information, this hands-on Workbook helps you understand and apply the proven principles found in Corporate Fraud and Internal Control.
Use this Workbook with:
Corporate Fraud and Internal Control: A Framework for Prevention (978-1-118-30156-2)
Preface vii
PART I: QUESTIONS AND PROBLEMS
Chapter 1: Nature of Fraud 3
Chapter 2: Elements of the Crimes of Theft and Fraud 9
Chapter 3: Frauds Against the Individual 15
Chapter 4: Frauds Against the Organization 19
Chapter 5: Fighting Corruption 31
Chapter 6: Role of Ethics in Fighting Fraud 39
Chapter 7: Controlling Fraud 45
Chapter 8: Fraud Risk Management 55
Chapter 9: Investigating Fraud 63
Chapter 10: Computer Fraud and Countermeasures 75
Chapter 11: Legal Issues Surrounding Fraud 91
Chapter 12: Industry-Related Fraud Opportunities 95
PART II: SOLUTIONS
Chapter 1: Nature of Fraud 115
Chapter 2: Elements of the Crimes of Theft and Fraud 119
Chapter 3: Frauds against the Individual 123
Chapter 4: Frauds against the Organization 125Chapter 5: Fighting Corruption 131
Chapter 6: Role of Ethics in Fighting Fraud 137
Chapter 7: Controlling Fraud 141
Chapter 8: Fraud Risk Management 149
Chapter 9: Investigating Fraud 153
Chapter 10: Computer Fraud and Countermeasures 159
Chapter 11: Legal Issues Surrounding Fraud 167
Chapter 12: Industry-Related Fraud Opportunities 169