Cost Management: Measuring, Monitoring, and Motivating Performance, 3rd Canadian Edition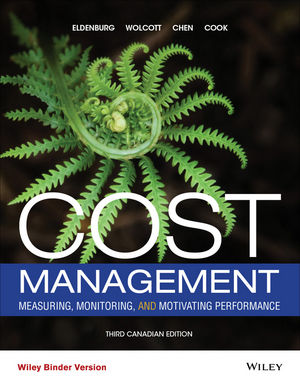 Cost Management: Measuring, Monitoring, and Motivating Performance, 3rd Canadian Edition
ISBN: 978-1-119-18569-7
Mar 2016
944 pages
Description
Cost Management: Measuring, Monitoring, and Motivating Performance, Third Canadian Edition was written to help students learn to appropriately apply cost accounting methods in a variety of organizational settings. To achieve this goal, students must also develop professional competencies, such as strategic/critical thinking, risk analysis, decision making, ethical reasoning and communication. This is in line with the CPA curriculum and the content of this edition and the problem materials is mapped to the CPA. Many students fail to recognize the assumptions, limitations, behavioural implications, and qualitative factors that influence managerial decision making. The textbook is written in an engaging step-by-step style that is accessible to students. The authors are proactive about addressing the challenges that instructors and students face in their teaching and learning endeavors. They utilize features such as realistic examples, real ethical dilemmas, self-study problems and unique problem material structured to encourage students to think about accounting problems and problem-solving more complexly.
New content and problem materials are mapped to the CPA
New additional chapters covering:

More variances: revenue, contribution margin, and advanced production variances
Inventory management including economic order quantity (EOQ), MRP, JIT

New content on productivity measures has been added.
WileyPLUS is a research-based online environment for effective teaching and learning. It is packed with interactive study tools and resources–including the complete online textbook–to give your students more value for their money.
Business practices and Canadian company examples are included throughout the text and in the problem material
Coverage of Canadian rules and regulations related to transfer pricing and tax
Coverage of Canadian professional exams
Focus on bias and risk in the creation and use of cost accounting information for decision making purposes.
Focuses on a wide range of business types, including: manufacturing, retail, service, non-profit, Canadian and International, as well as small to large private companies.
Explores ethical questions about real business scenarios by introducing an ethical decision making framework in Chapter 1; presenting ethical scenarios in each chapter; and posing one or more ethical homework problems in each chapter—many featuring real world scenarios.
A selection of end-of-chapter material that challenges a student's computational, spreadsheet, and critical thinking skills with unique problem types including: Integrating Across the Curriculum homework problems where students are asked to integrate applications of the cost accounting concepts across the curriculum e.g., auditing, marketing, finance.