Creative Writing For Dummies, UK Edition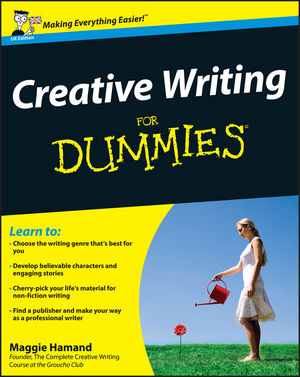 Creative Writing For Dummies, UK Edition
ISBN: 978-1-119-99244-8 November 2010 386 Pages
Description
Learn to:
Choose the writing genre that's best for you
Develop believable characters and engaging stories
Cherry-pick your life's material for non-fiction writing
Find a publisher and make your way as a professional writer
Develop the writing know-how that will keep your readers hooked
Do you have an idea for a novel (or a poem, or an article, or a play…) that you'd love to finally get down on paper? Whatever your aim, inside you'll find the advice and support to get you started and keep you going. From preparing a writing work-space to marshalling your material into both fiction and non-fiction genres, Creative Writing For Dummies has everything you need to help you unlock your creativity and make your writing sparkle.
So, you want to be a writer – pick and choose between genres, gather the materials you need and develop the right routines
He said what? When? – discover how to fit character, voice, dialogue and plot together
Telling tales – differentiate between novels, novellas and short stories, write plays for the stage or screen, wax lyrical in poetry or dip into children's writing
Matters of fact – blog about anything and everything, break into journalism, and let life stories, narrative non-fiction and travel writing leap off the page
From pastime to profession – crack the world of publishing and go professional with your hobby
'Learn from one of the best editors and teachers in the business. She pushed my writing to award-winning status.'
–
Dreda Say Mitchell, author of
Running Hot,
winner of the CWA John Creasey Dagger Award in 2005
.
Open the book and find:
Exactly where your writing talents lie
Why you need to be a good reader to become a good writer
What turns words on a page into sparkling conversation
Ways to weave character, plot and structure together
All the different sub-genres of novel-writing – from thrillers to chick-lit
The secrets of successful blogging
Editing tips that all writers can benefit from
The inner workings of agencies and publishing houses
Table of contents
Introduction 1
Part I: Getting Started 7
Chapter 1: You and Your Writing 9
Chapter 2: Getting into the Write Mind 27
Chapter 3: Finding Material to Work With 43
Part II: Introducing the Elements of Creative Writing 55
Chapter 4: Creating Characters 57
Chapter 5: Discovering Dialogue 71
Chapter 6: Choosing a Narrator 83
Chapter 7: Describing Your World 97
Chapter 8: Plotting Your Way 109
Chapter 9: Creating a Structure 127
Chapter 10: Rewriting and Editing 141
Part III: Writing Fiction 153
Chapter 11: When Less is More: Crafting Short Stories 155
Chapter 12: Writing the Novel 169
Chapter 13: Once Upon a Time: Writing for Children 183
Chapter 14: Penning Plays 195
Chapter 15: Writing Screenplays 207
Chapter 16: Rhymes and Reasons: Writing Poetry 219
Part IV: Exploring Non-Fiction 231
Chapter 17: Breaking into Journalism 233
Chapter 18: Writing from Life 245
Chapter 19: Crafting Narrative Non-Fiction 263
Chapter 20: Travel Writing: Tales for Armchair Explorers 273
Chapter 21: All About Blogging 281
Part V: Finding an Audience 289
Chapter 22: Finding Professionals to Publish Your Book 291
Chapter 23: Becoming a Professional 311
Part VI: The Part of Tens 325
Chapter 24: Ten Top Tips for Writers 327
Chapter 25: Ten Ways to Get Noticed 333
Chapter 26: Ten Pieces of Writing to Inspire You 339
Index 347