Design Thinking for Strategic Innovation: What They Can't Teach You at Business or Design School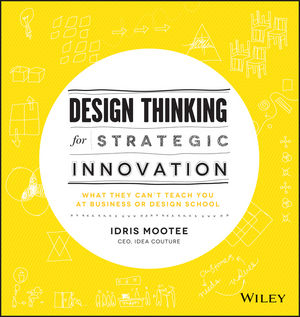 Design Thinking for Strategic Innovation: What They Can't Teach You at Business or Design School
ISBN: 978-1-118-62012-0 August 2013 224 Pages
Description
BUSINESS AS USUAL IS DONE FOR.
As technological innovation has accelerated, people, communities, and organizations have become more connected than ever before. We talk more, share more, and expect more. This disruption has changed the way consumers do business. We watch iPads—not TV. We don't believe the hype. We shop online—not in stores.
We don't want to eat junk ingredients. We want what we want when we want it—and at the price we want it.
In this environment, the traditional ways of running a business just won't work anymore.
Enter design thinking.
Design Thinking for Strategic Innovation explains how design thinking can bring about creative solutions to solve complex business problems. Through real life examples, it shows how design thinking has been applied across different industries and contexts. An essential guide for any business seeking to use design as a problem-solving tool, Design Thinking for Strategic Innovation offers a methodology to transform companies and cultures.
YOU'LL LEARN:
How to apply design thinking to your long-range planning
Why every future business leader needs to be a good design thinker
The 10 design thinking principles that redefine business management
Design thinking framework tailored to the eight key challenges that businesses face
How to create a design thinking culture within your company
Hiring design thinkers is not enough. Discover how to build design thinking into your organization's DNA. Revolutionize your approach to solving your business's greatest challenges with the power of Design Thinking for Strategic Innovation.
Acknowledgments ix
Foreword Erik Roth x
SCENE 01 There's No More Business As Usual viii
The Butterfly Effect and Long-Range Planning 12
Applied Design Thinking Is Strategic Innovation 16
Time to Think beyond Crisis Mode 18
Changing Management Paradigms 22
SCENE 02 What Is Design Thinking, Really? 26
Is Design Thinking a Science or an Art? 34
Design Thinking Has Been Oversimplified 38
SCENE 03 Applied Design Thinking in Business and Strategy 46
Design Thinking to the Rescue 56
We've Lost Touch with What's around Us 58
Every Future Business Leader Needs to Be a Good Design Thinker 60
The 10 Design Thinking Principles That Redefine Business Management 62
SCENE 04 Introducing the Design Thinking MBA 76
Business Challenge 01: Growth 82
Business Challenge 02: Predictability 94
Business Challenge 03: Change 108
Business Challenge 04: Maintaining Relevance 118
Business Challenge 05: Extreme Competition 126
Business Challenge 06: Standardization 136
Business Challenge 07: Creative Culture 148
Business Challenge 08: Strategy and Organization 156
SCENE 05 Hiring Design Thinkers Is Not Enough; We Need to Create Design Thinking Companies 188
About the Author 203
Photo Credits 204
Index 205