Diversity and Citizenship Education: Global Perspectives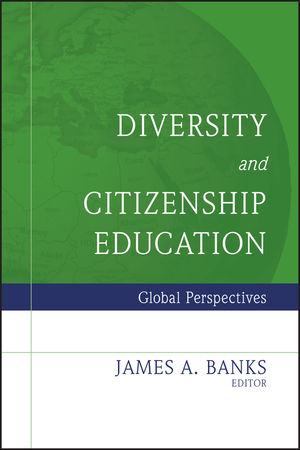 Diversity and Citizenship Education: Global Perspectives
ISBN: 978-0-787-98765-7 December 2006 Jossey-Bass 524 Pages
Description
The increasing ethnic, racial, cultural, religious, and language diversity in nations throughout the world is forcing educators and policymakers to rethink existing notions of citizenship and nationality. To experience cultural democracy and freedom, a nation must be unified around a set of democratic values such as justice and equality that balance unity and diversity and protect the rights of diverse groups. Diversity and Citizenship Education: Global Perspectives brings together in one comprehensive volume a group of international experts on the topic of diversity and citizenship education. These experts discuss and identify the shared issues and possibilities that exist when educating for national unity and cultural diversity. Diversity and Citizenship Education: Global Perspectives presents compelling case studies and examples of successful programs and practices from twelve nations, discusses problems that arise when societies are highly stratified along race, cultural, and class lines, and describes guidelines and benchmarks that practicing educators can use to structure citizenship education programs that balance unity and diversity. The book covers a broad range of issues and includes vital information on such topics as
Migration, citizenship, and education
The challenge of racialized citizenship in the United States
The contribution of the struggles by Indians and Blacks for citizenship and recognition in Brazil
Crises of citizenship education and ethnic issues in Germany, Russia, and South Africa
Conflicts between religious and ethnic factions
Diversity, globalization, and democratic education
Buy Both and Save 25%!
Original Price:CAD $217.00
Purchased together:CAD $162.75
save CAD $54.25
Cannot be combined with any other offers.
Foreword (Will Kymlicka).
Preface (James A. Banks).
Contributors and Conference Participants.
Reviewers.
PART ONE: Crosscutting Issues and Concepts.
Introduction: Democratic Citizenship Education in Multicultural Societies (James A. Banks).
1. Migration, Citizenship, and Education (Stephen Castles).
2. Higher Learning: Educational Availability and Flexible Citizenship in Global Space (Aihwa Ong).
3. Unity and Diversity in Democratic Multicultural Education: Creative and Destructive Tensions (Amy Gutmann).
PART TWO: The United States and Canada.
4. Culture Versus Citizenship: The Challenge of Racialized Citizenship in the United States (Gloria Ladson-Billings).
5. Citizenship and Multicultural Education in Canada: From Assimilation to Social Cohesion (Reva Joshee).
PART THREE: South Africa and Brazil.
6. Citizenship Education and Political Literacy in South Africa (Kogila A. Moodley and Heribert Adam).
7. Citizenship and Education in Brazil: The Contribution of Indian Peoples and Blacks in the Struggle for Citizenship and Recognition (Petronilha Beatriz Gonçalves e Silva).
PART FOUR: England, Germany, and Russia).
8. Diversity and Citizenship Education in England (Peter Figueroa).
9. Ethnic Diversity and Citizenship Education in Germany (Sigrid Luchtenberg).
10. Citizenship Education and Ethnic Issues in Russia (Isak D. Froumin).
PART FIVE: Japan, India, and China.
11. Expanding the Borders of the Nation: Ethnic Diversity and Citizenship Education in Japan (Stephen Murphy-Shigematsu).
12. Crisis of Citizenship Education in the Indian Republic: Contestation Between Cultural Monists and Pluralists (T. K. Oommen).
13. Ethnic Diversity and Citizenship Education in the People's Republic of China (Wan Minggang).
PART SIX: Israel and Palestine.
14. Diversity and Citizenship Education in Israel (Moshe Tatar).
15. Educating for Citizenship in the New Palestine (Fouad Moughrabi).
PART SEVEN: Curriculum for Diversity, Democracy, and Citizenship Education.
16. Diversity, Globalization, and Democratic Education: Curriculum Possibilities (Walter C. Parker).
Diversity, Democracy, Globalization, and Citizenship: A Bibliography.
Name Index.
Subject Index.
"…provides a solid basis for discussing these issues with faculty and administrators." (
NACADA
, 03/11/08)
"Just such an excellent resource . . .this book is valuable in its attention to curriculum and to a lesser extent, pedagogy . . ." (The National Teaching and Learning Forum)
This volume is essential reading for all scholars and students of the academic field of citizenship education. (London Review of Education, Vol. 6, March 2008)
This superbly edited volume provides an extremely coherent treatment of diversity and citizenship in the 21st century, perhaps largely owing to the fact that it grew out of a small, focused conferences of heralding thinkings on this topic from 12 countries. (Intercultural Education)
An extremely timely topic. Much of the world is struggling to reconcile growing diversity with national identity.
Stellar and international cast of authors, with contributors from the U.S., England, Canada, India, Japan, China, Germany, Israel, Palestine, Brazil, South Africa, Russia.
Solid basis in research.