Enriching the Brain: How to Maximize Every Learner's Potential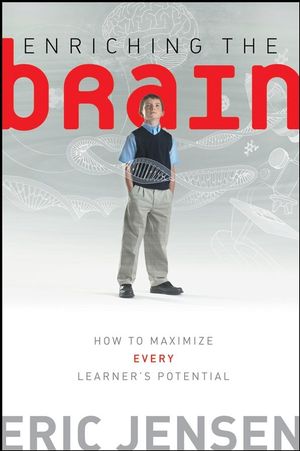 Enriching the Brain: How to Maximize Every Learner's Potential
ISBN: 978-0-470-22389-5 January 2008 Jossey-Bass 346 Pages
Description
Eric Jensen—a leading expert in the translation of brain research into education, argues in Enriching the Brain that we greatly underestimate students' achievement capacity. Drawing from a wide range of neuroscience research as well as related studies, Jensen reveals that the human brain is far more dynamic and malleable than we earlier believed. He offers us a powerful new understanding of how the brain can be "enriched," across the board to maximize learning, memory, behavior and overall function. The bottom line is we have far more to do with how our children's brains turn out than we previously thought. Enriching the Brain shows that lasting brain enrichment doesn't occur randomly through routine or ordinary learning. It requires a specific, and persistent experiences that amount to a "formula" for maximizing brain potential. Parents, teachers and policy-makers would do well to memorize this formula. In fact, the lifelong potential of all school age kids depends on whether or not we use it. Offering an inspiring and innovative set of practices for promoting enrichment in the home, the school, and the classroom, this book is a clarion call. All of us, from teachers to parents to policymakers must take their role as 'brain shapers' much more seriously and this book gives the tools with which to do it.
Cannot be combined with any other offers.
Original Price:CAD $48.98
Purchased together:CAD $36.74
save CAD $12.24
Cannot be combined with any other offers.
Original Price:CAD $67.99
Purchased together:CAD $50.99
save CAD $17.00
Table of contents
Figures and exhibits.
Preface.
1 The fixed-brain myth.
2 Rethinking intelligence.
3 The science behind enrichment.
4 The malleable brain.
5 Brains at risk.
6 Exploring exceptional brains.
7 Enrichment as educational policy.
8 School and classroom solutions.
9 Early childhood enrichment.
10 Enriching the future.
Notes.
The author.
Index.
Reviews
"Through his work, Jensen presents a necessary challenge to those seeking a way to make practical use of the latest brain research." cover image shown (The School Administrator, 10/2007)
Features
Author is leading expert in the 'brain based' teaching movement.
Dispels myths and assumptions about learning and intelligence.
Explores connections between enrichment, learning and achievement.
Offers powerful enrichment approaches to benefit all students.
Cutting edge; profiles latest scientific findings.
Features practical action steps for positive results.