Enterprise Risk Management: Today's Leading Research and Best Practices for Tomorrow's Executives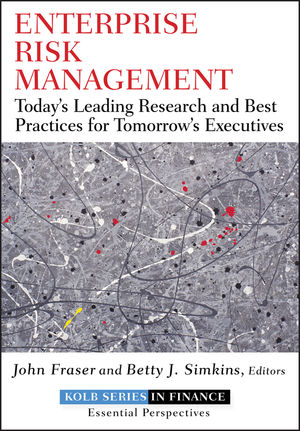 Enterprise Risk Management: Today's Leading Research and Best Practices for Tomorrow's Executives
ISBN: 978-0-470-49908-5
Dec 2009
608 pages
Description
Enterprise Risk Management
The Robert W. Kolb Series in Finance is an unparalleled source of information dedicated to the most important issues in modern finance. Each book focuses on a specific topic in the field of finance and contains contributed chapters from both respected academics and experienced financial professionals. As part of the Robert W. Kolb Series in Finance, Enterprise Risk Management introduces you to the essential concepts and techniques associated with this dynamic field. It provides a blend of academic and practical experience in order to educate both professionals and students alike.
Filled with in-depth insights and expert advice, this reliable resource offers holistic coverage of ERM and, in the process, addresses the what, why, and how of ERM to assist firms with its successful implementation.
Divided into six comprehensive parts, Enterprise Risk Management:
Offers a broad overview of risk tolerance, risk profiles, and allocation of resources

Provides a thorough introduction to ERM as it relates to credit, market, and operational risk

Examines the evolving requirements of the rating agencies and their importance to overall risk management in a corporate setting

Discusses the drivers, techniques, and benefits involved in successfully implementing enterprise risk management

And much more
With this book as your guide, you'll gain a firm understanding of the issues surrounding ERM and what it will take to make it work for you.
Foreword by Robert S. Kaplan.
Part I: Overview.
Chapter One: Enterprise Risk Management: An Introduction and Overview.
Chapter Two: A Brief History of Risk Management.
Chapter Three: ERM and Its Role in Strategic Planning and Strategy Execution.
Chapter Four: The Role of the Board of Directors and Senior Management in Enterprise Risk Management.
Part II: ERM Management, Culture and Control.
Chapter Five: Becoming the Lamp Bearer: The Emerging Roles of the Chief Risk Officer.
Chapter Six: Creating A Risk Aware Culture.
Chapter Seven: ERM Frameworks.
Chapter Eight: Identifying and Communicating Key Risk Indicators.
Part III: ERM Tools and Techniques.
Chapter Nine: How to Create and Use Corporate Risk Tolerance.
Chapter Ten: How to Plan and Run a Risk Management Workshop.
Chapter Eleven: How to Prepare a Risk Profile.
Chapter Twelve: How to Allocate Resources Based on Risk.
Chapter Thirteen: Quantitative Risk Assessment in ERM.
Part IV: Types of Risk.
Chapter Fourteen: Market Risk Management and Common Elements with Credit Risk Management.
Chapter Fifteen: Credit Risk Management.
Chapter Sixteen: Operational Risk Management Chapter.
Chapter Seventeen: Risk Management: Techniques in Search of a Strategy.
Chapter Eighteen: Managing Financial Risk and its Interaction with Enterprise Risk Management.
Chapter Nineteen: Bank Capital Regulation and Enterprise Risk Management.
Chapter Twenty: Legal Risk Post SOX and the Subprime Fiasco: Back to the Drawing Board.
Chapter Twenty One: Financial Reporting and Disclosure Risk Management.
Part V: Survey Evidence and Academic Research.
Chapter Twenty Two: Who Reads What Most Often? A Survey of Enterprise Risk Management Literature Read by Risk Executives.
Chapter Twenty Three: Academic Research on Enterprise Risk Management.
Chapter Twenty Four: Enterprise Risk Management: Lessons from the Field.
Part VI: Special Topics and Case Studies.
Chapter Twenty Five: Rating Agencies Impact on Enterprise Risk Management.
Chapter Twenty Six: Enterprise Risk Management: Current Initiatives and Issues.
Chapter Twenty Seven: Establishing ERM Systems in Emerging Countries.
Chapter Twenty Eight: The Rise and Evolution of the Chief Risk Officer: Enterprise Risk Management at Hydro One.
Conclusion.
Endnotes.
About the Authors.
Index.