Ethics and Corporate Social Responsibility in the Meetings and Events Industry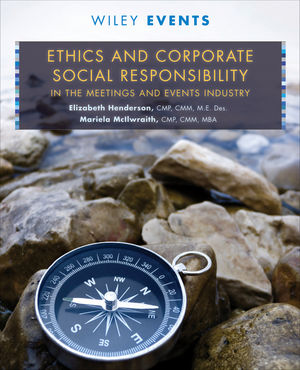 Ethics and Corporate Social Responsibility in the Meetings and Events Industry
ISBN: 978-1-118-07355-1 September 2012 320 Pages
Description
This book celebrates what has been already achieved in moving the meetings and events industry towards a more sustainable future, and pushes the boundaries of imagination to visualize what might be possible in the years to come. This text simultaneously pushes the thresholds of current knowledge and actions toward a vision of a sustainable future for the meetings and events industry. Written not only as a tool, but as a capacity-builder for future sustainable leaders within the industry, this book includes a wealth of information on new sustainability tools: new standards, new technologies, and even new books.
Foreword vii
Series Editor Foreword xi
Preface xiii
Acknowledgments xvii
CHAPTER 1 Introduction to Corporate Social Responsibility and Ethics 3
CHAPTER 2 Business Ethics and the Meetings and Events Industry 29
CHAPTER 3 Strategies for Sustainable Meetings 49
CHAPTER 4 Social Responsibility and Culture 73
CHAPTER 5 Meetings, Events, and Environmental Science 93
CHAPTER 6 Shared Value and Strategic Corporate Responsibility 117
CHAPTER 7 Communication, Marketing, and Public Relations 141
CHAPTER 8 Sustainable Supply Chains for Meetings and Events 163
CHAPTER 9 Sustainability Measurement and Evaluation 189
CHAPTER 10 Sustainability Reporting for Meetings and Events 217
CHAPTER 11 Risk Management and Legal Considerations 247
CHAPTER 12 Backcasting and Scenario Planning for a Sustainable Meetings and Events Industry 269
Glossary 291
Index 297
In addition to Group Projects, Activities, Recommended Readings, and Resources, hallmark features include:
Backcasting methodologies and scenario planning to envision the steps to develop a sustainable future.
An overview of environmental impacts and strategies to measure, reduce, eliminate, or mitigate these.
Strategies for sustainable and ethical promotion, marketing, and communication.
Measurements, evaluation techniques, and reporting methodologies to improve and track performance.