Evocative Coaching: Transforming Schools One Conversation at a Time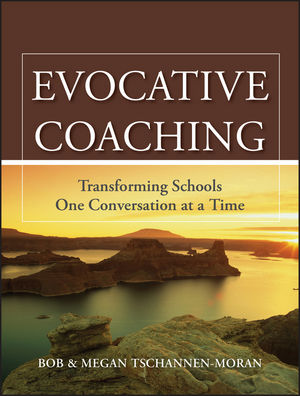 Evocative Coaching: Transforming Schools One Conversation at a Time
ISBN: 978-0-470-54759-5 July 2010 Jossey-Bass 368 Pages
Description
There?s a lot of conversation about how to make schools better. Unfortunately, the nature of those conversations often makes things worse.
Evocative Coaching: Transforming Schools One Conversation at a Time
maps out a way to change that. By taking a teacher-centered, no-fault, strengths-based approach to performance improvement, the Evocative Coaching model generates the motivation and movement that enables teachers and schools to achieve desired outcomes and enhance quality of life. Viewed as a dynamic dance, the model is choreographed in four steps ? Story, Empathy, Inquiry, Design ? which are each laid out in its own chapter with powerful illustrative materials and end-of-chapter discussion questions to prompt further reflection.
Bringing together the best research and wisdom in educational leadership and professional coaching, authors Bob and Megan Tschannen-Moran have developed a simple yet profound way of facilitating new conversations in schools through Story Listening, Expressing Empathy, Appreciative Inquiry, and Design Thinking. It?s an iterative process that moves beyond old ways of thinking, doing, and being. It?s an inspirational process that reinvigorates the passion for making schools better, one conversation at a time.
This happens when coaches:
give teachers our full, undivided attention;
accept and meet teachers where they are right now, without making them wrong;
ask and trust teachers to take charge of their own learning and growth;
make sure teachers are talking more than we are;
enable teachers to appreciate the positive value of their own experiences;
harness the strengths teachers have to meet challenges and overcome obstacles;
reframe difficulties and challenges as opportunities to learn and grow;
invite teachers to discover possibilities and find answers for themselves;
dialogue with teachers regarding their higher purpose for teaching;
uncover teachers? natural impulse to engage with colleagues and students;
assist teachers to draw up a personal blueprint for professional mastery;
support teachers in brainstorming and trying new ways of doing things;
maintain an upbeat, energetic, and positive attitude at all times;
collaborate with teachers to design and conduct appropriate learning experiments;
enable teachers to build supportive environments and teams;
use humor to lighten the load; and
inspire and challenge teachers to go beyond what they would do alone.
Each chapter provides a research-based theory to support the strategies presented, and includes specific suggestions and anecdotes. The Evocative Coaching model makes coaching enjoyable by getting people to focus on what they do best, and it invites larger, more integral conversations so that people talk about their work in the context of other things they care about. Resting on strong, evidence-based practices, the Evocative Coaching model offers educators the help they need to meet the challenges of increased accountability and expectations. This model can also be used effectively by coaches and leaders in other organizational contexts.
Table of Contents:
Chapter 1: What Is Evocative Coaching?
Chapter 2: Coaching Presence
Loop I: The No-Fault Turn
Chapter 3: Story Listening
Chapter 4: Expressing Empathy
Loop II: The Strengths-Building Turn
Chapter 5: Appreciative Inquiry
Chapter 6: Design Thinking
Chapter 7: Aligning Environments
Chapter 8: Coaching Conversations
Chapter 9: The Reflective Coach
To learn more about Evocative Coaching and to sign up for the Evocative Coach Training Program, visit www.SchoolTransformation.com.
Table of contents
List of Figures and Tables.
Gratitudes.
Preface.
PART ONE: INTRODUCTION TO EVOCATIVE COACHING.
1 What Is Evocative Coaching?
The Promise and Practice of Coaching.
Evocative Coaching Defined.
Why Evocative Coaching Works.
What Makes Coaching Evocative?
The Dynamic Dance of Evocative Coaching.
Summary.
Questions for Reflection and Discussion.
2 Coaching Presence.
A New Metaphor for Coaching.
Evocative Coaching as a Way of Being.
Lessons from a Horse Whisperer.
Fostering Trust and Rapport.
Holding the Coaching Space.
Conveying Coaching Presence.
Coaching Presence in the Context of Hierarchy.
Summary.
Questions for Reflection and Discussion.
PART TWO: THE FOUR STEPS OF EVOCATIVE COACHING 53
Interlude Loop I: The No-Fault Turn.
3 Story Listening.
The Power of Story.
Evoking Coachable Stories.
Mindful Listening.
Quiet Listening.
Reflective Listening.
Imaginative Listening.
Summary.
Questions for Reflection and Discussion.
4 Expressing Empathy.
Understanding Empathy.
Embodying Empathy.
Access Points for Empathy.
Distinctive Empathy Reflections.
Elevating Readiness to Change.
Celebrating Effort and Progress.
The Golden Sigh.
Summary.
Questions for Reflection and Discussion.
Interlude Loop II: The Strengths-Building Turn.
5 Appreciative Inquiry.
Appreciative Inquiry.
Initiating the Learning Conversation.
Illuminating the Best of What Is.
Imagining the Best of What Might Be.
Coaching with Strengths, Observations, Aspirations, and Possibilities.
Summary.
Questions for Reflection and Discussion.
6 Design Thinking.
Calling Forth Motivation and Movement.
Coaching Tools for Design Thinking.
Around and Around the Möbius Strip: Back to Story.
Summary.
Questions for Reflection and Discussion.
PART THREE: EVOCATIVE COACHING IN PRACTICE.
7 Aligning Environments.
Understanding Environments.
Flow.
Navigating the River of Change.
Managing Clouds, Wind, and Thunder.
Ripples in a Pond.
Stories as Catalysts for Transformation.
Summary.
Questions for Reflection and Discussion.
8 Coaching Conversations.
The Great 8: Choreographing the Coaching Dance.
Story Listening.
1. Initiate 2. Elaborate.
Expressing Empathy.
3. Validate.
Appreciative Inquiry.
4. Appreciate 5. Extrapolate.
Design Thinking.
6. Innovate 7. Deliberate 8. Activate.
Summary.
Questions for Reflection and Discussion.
9 The Reflective Coach.
Coaching the Self.
Hearing Our Own Stories.
Self-Empathy.
Inquiring into Our Own Professional Practice.
Design Action-Learning Experiments.
Professional Coach Code of Ethics.
Conclusion.
Questions for Reflection and Discussion.
Appendix A Evocative Coaching Principles, Questions, and Reflections.
Appendix B Practice Exercises.
Appendix C Content Review Questions.
Appendix D The IAC Coaching Masteries® Overview.
References.
Recommended Readings and Resources.
About the Authors.
Index.