Female Sexual Pain Disorders: Evaluation and Management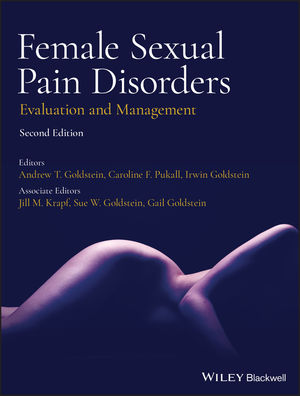 Female Sexual Pain Disorders: Evaluation and Management
ISBN: 978-1-405-18398-7 March 2009 Wiley-Blackwell 288 Pages
Description
First book devoted to the diagnosis and treatment of sexual pain in women
Female Sexual Pain Disorders is a remarkable fusion of clinical and scientific knowledge that will empower women's healthcare professionals to help their patients in overcoming this common debilitating disorder.

Based on the highest level research, it provides state-of-the-art practical guidance that will help you to:



Evaluate and distinguish the causes of sexual pain in women

Differentiate the many forms of sexual pain

Implement multidisciplinary treatments
Distilling the experience of world leaders across many clinical, therapeutic and scientific disciplines, with an array of algorithms and diagnostic tools, Female Sexual Pain Disorders is your ideal companion for treating the many millions of women who suffer from this disorder worldwide.

All proceeds from this book are being donated to the International Society for the Study of Women's Sexual Health (ISSWSH).
List of Contributors.
Foreword.
Preface.
Acknowledgments.
1 Historical Perspective of Vulvodynia (Premlatha Amalraj, Sarah Kelly, Gloria A. Bachmann).
2 The Prevalence of Dyspareunia (Richard D. Hayes).
3 The Relevance of Dyspareunia (Marta Meana, Lorraine Benuto, Robyn L. Donaldson).
4 Medical History, Physical Examination, and Laboratory Tests for the Evaluation of Dyspareunia (Andrew T. Goldstein).
5 Psychological Evaluation and Measurement of Dyspareunia (Caroline F. Pukall, Marta Meana, Katherine S. Sutton).
6 Physical Therapy Evaluation of Dyspareunia (Talli Y. Rosenbaum).
7 The Role of Vulvoscopy in the Evaluation of Dyspareunia (Mario Sideri, Filippo Murina, Vanda Bianco, Gianluigi Radici).
8 Provoked Vestibulodynia (Andrew T. Goldstein, Caroline F. Pukall).
9 Vulvar Dermatoses as a Cause of Dyspareunia (Lara J. Burrows, Gail R. Goldstein, Gaby Moawad, Rochele Torgerson).
10 Hidradenitis Suppurativa (Jennifer M. Rhode, Angela S. Kueck, Hope K. Haefner).
11 Sexually Transmitted Infections (STIs) (Alison Mears, David Goldmeier).
12 Generalized Vulvodynia (Andrew T. Goldstein, Caroline F. Pukall).
13 Physical Therapy Treatment of Pelvic Floor Dysfunction (Amy Stein, Dee Hartmann).
14 Interstitial Cystitis and Dyspareunia (Nadya M. Cinman, Chad Huckabay, Robert M. Moldwin).
15 Vulvovaginitis (Jack D. Sobel).
16 Noninfectious Vaginitis (Ahinoam Lev-Sagie, Paul Nyirjesy).
17 Pudendal Neuralgia (Philip W.H. Peng, Stanley J. Antolak, Jr., Allan S. Gordon).
18 Congenital Anomalies of the Female Genital Tract (Lara J. Burrows).
19 Endometriosis (Jennifer Droz, Fred M. Howard).
20 Pelvic Inflammatory Disease (Nancy D. Gaba).
21 Dyspareunia and Irritable Bowel Syndrome (IBS) (Ami D. Sperber, Douglas A. Drossman).
22 Pelvic Organ Prolapse and Sexual Pain (Gordon Davis, Joe Brooks).
23 Cognitive-Behavioral, Physical Therapy, and Alternative Treatments for Dyspareunia (Sophie Bergeron, Tina Landry, Bianca Leclerc).
24 Topical and Injectable Therapies for Vulvar Pain (Colleen M. Kennedy, Catherine M. Leclair, Lori A. Boardman).
25 Surgical Therapy: An Effective Treatment for Dyspareunia Caused by Vestibulodynia (Jacob Bornstein, Doron Zarfati).
26 Vulvar Pain: The Neurologist's View (Allan S. Gordon).
27 Mast Cells and Their Role in Sexual Pain Disorders (Alessandra Graziottin).
28 Hormonal Factors inWomen's Sexual Pain Disorders (Irwin Goldstein).
29 Lieomyomas and Adnexal Masses: Are They a Significant Cause of Dyspareunia? (Denniz Zolnoun, Caitlin Shaw).
30 Animal Models of Dyspareunia (Melissa A. Farmer, Yitzchak M. Binik, Jeffrey S. Mogil).
31 Psychological and Relational Aspects of Dyspareunia (Kelly B. Smith, Caroline F. Pukall, St´ephanie C. Boyer).
32 Dyspareunia and Sexual/Physical Abuse (Barbara D. Reed).
33 Sexual Pain and Cancer (Don Dizon, Ann Partridge, Alison Amsterdam, Michael L. Krychman).
34 Postpartum Dyspareunia (Colin MacNeill, Matthew F. Davies, John T. Repke).
35 Vaginismus: Evaluation and Management (Elke D. Reissing).
36 Female Genital Cutting (Crista Johnson).
37 Practical Aspects of Establishing a Sexual Pain Center (Susan Kellogg Spadt, Kristene E. Whitmore).
38 The Power of Patient Advocacy (Phyllis Mate, Christin Veasley).
39 The Future of Vulvodynia Research (David C. Foster).
Conclusion.
Index.
"An easy-to-read and comprehensive specialist book for the general gynaecologist which clarifies myths and sheds light on the pitfalls of female genital pain management." (The Obstetrician & Gynaecologist, 2010)
the first textbook devoted to the diagnosis and treatment of sexual pain in women
over 20 million women in the US alone suffer from dyspareunia - painful sex. Until recently this has been a silent condition women have suffered. As expectations of a fulfilling sex life grow, women are increasingly asking why their experience doesn't match the hype

includes diagnostic tools to differentiate among different forms of dyspareunia

discusses the causes of dyspareunia and alternative, contemporary multi-disciplinary treatments