Green Building Illustrated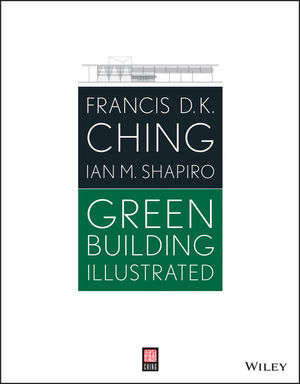 Green Building Illustrated
ISBN: 978-1-118-56237-6
Feb 2014
288 pages
Description
HOW TO TURN THE PROMISE OF SUSTAINABILITY INTO REALITY
In the tradition of the bestselling classic Building Construction Illustrated, this new book from Francis D.K. Ching and Ian M. Shapiro explains the fundamental issues of sustainable design and construction in a beautifully illustrated format.
Approaching design from the outside to the inside of a building, the book covers broad aspects of sustainability, providing a framework and detailed strategies for designing buildings that are substantively green. It explains why we need to build green, the theories behind it, and new directions in the industry. Green Building Illustrated includes comprehensive discussion of vital topics such as site selection, passive design using building shape, water conservation, ventilation and indoor air quality, heating and cooling, and minimum-impact materials. Throughout, Ching's signature line drawings clearly and helpfully illustrate each topic.
Grounded in the fundamentals of building science and integrated design, the book covers a broad set of emerging but proven tools with which to design green buildings.
Comprehensive, highly practical, and beautifully presented, Green Building Illustrated is a must-have resource that equips students and practitioners with the latest developments and strategies in this growing and vital field.
Preface vii
1 Introduction 1
2 First Principles 13
3 Codes, Standards, and Guidelines 25
4 Community and Site 35
5 Building Shape 57
6 Near-Building Features 73
7 Outer Envelope 83
8 Unconditioned Spaces 113
9 Inner Envelope 125
10 Thermal Zoning and Compartmentalization 137
11 Lighting and Other Electric Loads 145
12 Hot and Cold Water 159
13 Indoor Environmental Quality 167
14 Heating and Cooling 187
15 Renewable Energy 205
16 Materials 211
17 Schedules, Sequences, and Affordability 227
18 Quality in Green Design and Construction 233
19 Conclusion 253
LEED
Green Building Rating System 259
Glossary 261
Bibliography 265
Index 269