High-Payoff Strategies: How Education Leaders Get Results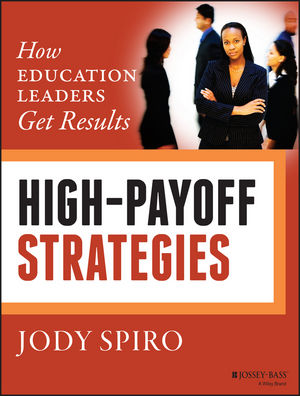 High-Payoff Strategies: How Education Leaders Get Results
ISBN: 978-1-118-83441-1 November 2015 Jossey-Bass 160 Pages
Description
Focus on the right things
An education leader's job can seem overwhelming, but it doesn't have to be that way. Research shows that by spending time on just a few high-payoff strategies, leaders can bring about the meaningful change their schools and districts need.
High-Payoff Strategies helps administrators lead successful change initiatives by focusing on the three top priorities identified by research and practitioners alike: fostering a supportive district and school culture, leading instructional change, and building a learning community among faculty and staff.
Drawing on the latest research as well as hundreds of interviews with education leaders, High-Payoff Strategies reveals what it really takes to bring about school turnaround. The book includes rich and varied examples showing how real-world education leaders—in urban, suburban, and rural settings—have successfully led changes in their schools and districts. It also provides tools that readers can use immediately to put these practices in place, together with videos demonstrating the practices in action. High-Payoff Strategies helps education leaders create schools and districts that support teachers and make a difference in the lives of children.
Table of contents
Acknowledgments ix
About the Author xi
1 Introduction to the High-Payoff Strategies 1
2 Vision and Focus 13
PART 1 Strategy: Culture 27
3 Creating a Culture Supportive of Teaching and Learning 29
4 Using Data to Plan Culture Strategies 45
PART 2 Strategy: Instructional Improvements 59
5 Leading Instructional Improvements 61
6 Using Data to Plan Instructional Improvement Strategies 73
PART 3 Strategy: Learning Communities 89
7 Facilitating Learning Communities 91
8 Using Data to Plan Learning Community Strategies 105
PART 4 The Payoff 117
9 Using All Strategies Together to Achieve the Vision 119
Annotated Bibliography 127
Ideas for Using These Materials in Courses and Workshops 135
Name Index 139
Index 141