Industrial Relations in Canada, 4th Edition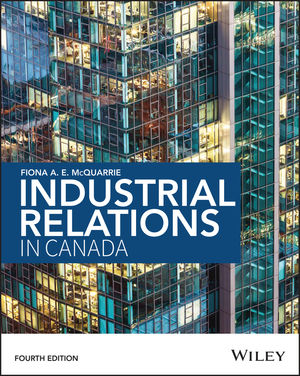 Industrial Relations in Canada, 4th Edition
ISBN: 978-1-118-87839-2 April 2015 480 Pages
Description
Fiona McQuarrie's Industrial Relations in Canada received wide praise for helping students to understand the complex and sometimes controversial field of Industrial Relations, by using just the right blend of practice, process, and theory. The text engages business students with diverse backgrounds and teaches them how an understanding of this field will help them become better managers.
The fourth edition retains this student friendly, easy-to-read approach, praised by both students and instructors across the country. The goal of the fourth edition was to enhance and refine this approach while updating the latest research findings and developments in the field.
Chapter 1 An Introduction to Industrial Relations in Canada 2
The Employer-Union Relationship
Introduction 4
What Does the Term "Industrial Relations" Mean? 4
Industrial Relations as an Academic Subject 6
Why Study Industrial Relations? 7
Industrial Relations Legislation in Canada 10
The Question of Jurisdiction 10
Labour Relations Laws 11
Public Sector Labour Relations Legislation 13
Occupation-Specifi c Labour Relations Legislation 14
Employment Standards Legislation 15
Human Rights Legislation 15
The Charter of Rights and Freedoms 16
The Unionized Workplace in Canada 19
An Overview of the Book 22
Summary 25
Key Terms 25
Discussion Questions 25
Exercises 25
References 26
Chapter 2 Theories of Industrial Relations 28
Where Canada's Unions Are Today
Introduction 30
The Origin of Unions 30
Theories of Union Origins 34
The Webbs: The Effects of Industrialization 34
Selig Perlman: Unions and the Class System 36
John Commons: The Effects of the Market 37
The Functions of Unions 38
Robert Hoxie: Union Types 38
E. Wight Bakke: Choosing to Join a Union 39
John Dunlop: The Industrial Relations System 40
The Future of Unions 44
Karl Marx and Friedrich Engels: Unions and the Class Struggle 44
Harry Braverman: The Effect of Deskilling 45
Thomas Kochan, Robert McKersie, and Peter Cappelli: New Union and Employer Roles 46
Richard Chaykowski and Anil Verma: The Distinctive Canadian Context 47
Summary 49
Key Terms 50
Discussion Questions 50
Exercises 50
References 51
Chapter 3 History of the Canadian Union Movement 52
Preserving Alberta's Labour History
Introduction 54
Canada as a Country: Distinct Characteristics 54
Early Canadian Unionism: The 1800s 56
The Industrial Age: The Early 1900s 60
The First World War Era 63
After the First World War 66
The Second World War 70
After the Second World War 72
The 1950s and 1960s 74
The 1970s and 1980s 77
Into the 21st Century 79
Summary 81
Key Terms 82
Discussion Questions 82
Exercises 83
References 83
Chapter 4 The Structure of Canadian Unions 86
Labour Council Addresses Larger Issues
Introduction 88
The Local Union 89
Structure of the Local Union 90
Functions of the Local Union 91
Regional, National, and International Unions 95
Structure of Parent Unions 95
Functions of Parent Unions 97
Labour Councils 98
Structure of Labour Councils 98
Functions of Labour Councils 99
Provincial Labour Federations 100
Structure of Provincial Labour Federations 101
Functions of Provincial Labour Federations 101
National and Centralized Labour Federations 102
National Labour Federations 102
Canadian Labour Congress 102
Centralized Labour Federations 107
Quebec Federation of Labour 107
Centrale des syndicats du Québec 108
Confédération des syndicats nationaux 109
International Labour Federations 110
Summary 111
Key Terms 112
Discussion Questions 112
Exercises 113
References 113
Chapter 5 The Organizing Campaign 116
Union Local Finds Strength in Numbers
Introduction 118
Factors Affecting Employee Support for a Union 118
Personal Factors 119
Workplace Factors 120
Economic Factors 122
Societal Factors 123
Steps in the Organizing Campaign 124
The Information Meeting 125
The Organizing Committee 126
Factors Affecting the Success of an Organizing Campaign 127
The Application for Certifi cation 129
Sufficient Membership Support 130
Appropriate Bargaining Unit 133
Organizing in the Construction Industry & Organizing Through Voluntary Recognition 139
The Construction Industry 140
Voluntary Recognition 140
Summary 141
Key Terms 142
Discussion Questions 142
Cases 142
References 146
Chapter 6 Establishing Union Recognition 148
Certification Applications Keep BC Labour Relations Board Busy
Introduction 150
Assessing the Certification Application 150
The Workplace Notice 150
Determining Employee Support 150
The Representation Vote 151
The Hearing 155
Special Circumstances during Certification 156
Certification for a Previously Unionized Workplace 156
Certification If the Parties Change 160
Certification Applications during a Strike or Lockout 161
Unfair Labour Practices 162
Definition and Legislative Philosophy 162
Legislation 164
Dealing with an Unfair Labour Practice Complaint 165
Remedies for Unfair Labour Practices 167
Summary 169
Key Terms 169
Discussion Questions 170
Cases 170
References 175
Chapter 7 Defining and Commencing Collective Bargaining 176
A Mutually Beneficial Approach
Introduction 178
The Effects of Certifi cation 178
The Framework for Collective Bargaining 180
The Structure of Collective Bargaining 180
The Participants in Collective Bargaining 182
What Can the Parties Bargain For? 185
Preparing to Commence Collective Bargaining 186
Timelines for Collective Bargaining 186
Setting Bargaining Priorities 188
Preparing for the Start of Bargaining 192
Bargaining in Good Faith 193
Summary 196
Key Terms 197
Discussion Questions 197
Cases 198
References 202
Chapter 8 The Collective Bargaining Process 204
Vote of 96 Percent in Favour of Strike Sends Clear Message to Health Employers
Introduction 206
How Do Negotiations Work? 206
Stages of Union-Management Negotiations 206
Pre-negotiation Stage 207
Establishing the Negotiating Range 207
Narrowing the Bargaining Range 208
The Crisis Stage 209
Ratification 210
Negotiation Stages and Negotiation Subprocesses 211
The Subprocesses within Each Bargaining Stage 212
The Role of Bargaining Power in Union-Management Negotiations 218
Two Alternative Models of Union-Management Negotiations 220
The "Cost of Disputes" Model 220
The Mutual Gains Model of Bargaining 222
Summary 224
Key Terms 224
Discussion Questions 225
Cases 225
Collective Bargaining Simulation Exercise 231
Newtown School Dispute 231
References 236
Chapter 9 Strikes and Lockouts 238
Engineers Strike at CN
Introduction 240
Defining Strikes and Lockouts 240
Why Strikes or Lockouts Happen 241
Motivations for Striking or Locking Out 242
Bargaining Structure 244
Individual Factors 244
Economic Conditions 245
Legislative Restrictions 246
Bargaining Process Factors 246
How Does a Strike or Lockout Begin? 247
What Happens When a Strike or Lockout Takes Place 252
Picketing 253
Replacement Workers 256
Ending a Strike or Lockout 261
Putting Canada's Strike Record in Context 263
Summary 269
Key Terms 269
Discussion Questions 270
Cases 270
References 273
Chapter 10 Third-Party Intervention during Negotiations 276
Helping Parties Find Their Own Solutions
Introduction 278
Conciliation 278
Mediation 283
Other Forms of Mediation 286
Interest Arbitration 287
Total-Package Final Offer Selection 289
Item-by-Item Final Offer Selection 290
Mediation-Arbitration 293
Using Conciliation, Mediation, or Arbitration 294
Third-Party Intervention in Private Sector Bargaining Disputes 295
Third-Party Intervention in Public Sector Bargaining Disputes 295
Other Forms of Intervention in the Bargaining Process 296
Final Offer Votes 296
Industrial Inquiry Commission 296
Disputes Inquiry Board 297
Summary 298
Key Terms 298
Discussion Questions 298
Case 299
References 301
Chapter 11 The Grievance Arbitration Process 302
Standing Up for Workers' Rights
Introduction 304
The Grievance in the Workplace 305
Definition of a Grievance 305
Types of Grievances 306
Timeliness of a Grievance 307
Steps in the Grievance Procedure 308
Duty of Fair Representation 314
The Grievance Arbitration Process 316
Preparing for a Grievance Arbitration 316
The Arbitration Hearing 318
Order of Proceeding 320
Creating the Arbitration Award 321
Problems with the Traditional Grievance Arbitration Process 322
Speed of the Process 322
Formality and Legalism of the Process 323
Cost-Effectiveness of the Process 324
Alternatives to the Traditional Grievance Arbitration Process 324
Expedited Arbitration 324
Grievance Mediation 327
Mediation-Arbitration 330
Summary 332
Key Terms 332
Discussion Questions 333
Cases 333
Exercise 341
References 341
Chapter 12 Changes to the Union or the Employer 344
Largest Union Merger in Canadian History Receives Unprecedented Support
Introduction 346
Successorship 346
Decertification 354
Union Mergers 361
Technological Change 364
Workplace Restructuring 368
Summary 372
Key Terms 372
Discussion Questions 372
Cases 373
References 380
Chapter 13 Future Issues for Workers, Work Arrangements, Organizations, and the Industrial Relations System 382
Providing the Youth Perspective
Introduction 384
Changes in Workforce Demographics 384
Young Workers 384
Female Workers 388
Older Workers 390
Ethnic and Racial Diversity in the Workforce 391
Union Strategies for Dealing with the Changing Workforce 393
Changing Work Arrangements and Practices 396
Work Scheduling 397
Telecommuting 397
Different Employment Relationships 398
New Human Resource Management Practices 399
Union Responses to Changing Work Arrangements and Practices 399
Changes in Organizational Structures 401
Union Responses to Changing Organizational Structures 404
Globalization 405
Union Responses to Globalization 408
What Happens Next? Factors Influencing the Future of Industrial Relations in Canada 410
Legislation 411
Political Influence 414
Union Organizing 417
Summary 421
Key Terms 421
Discussion Questions 422
Case 422
References 426
Glossary 434
Index 443
New cases: Adapted from real scenarios faced by labour relations boards across Canada, these cases put the student in the position of a labour relations board member, who must assess the evidence from both sides and render a decision. All chapter opening vignettes and In the News Stories have been revised or replaced with new ones.
Currency: The fourth edition has been thoroughly updated with new examples and references, including updated statistics and legal information. The Weekly Updates Site, http://wileyirupdates.ca/, includes relevant news articles and videos with discussion questions to spark a debate in the classroom. The site will keep both instructors and students informed about the latest news stories.
Updated Discussions of Key Topics, including globalization, the impact of technology, Supreme Court decisions, and changes in labour laws.
New Developments in the Union-Management Environment, featuring discussions of the use of social media for communication and/or support in organizing campaigns and strikes.
In the News Feature: Each chapter includes an actual news article to highlight interesting real-world events. This feature helps to show students that the field is diverse and is "not just about strikes and lockouts".
Rather than emphasizing the economic or theoretical approach to the discipline, there is a focus on the practical or process oriented side of labour relations as it applies in today's workplace.
Relevant, current topics including technological changes, downsizing, union membership, and survival issues are covered, providing students with the most up-to-date information on the subject.
A host of pedagogical tools including chapter objectives, new terminology definitions, discussion questions, charts and graphs, and cases and simulation exercises are included to help students who may have no experience in industrial relations.
Numerous examples, cases, vignettes, and photos highlight real-world practice. Cases from actual labour relations board decisions from across Canada are presented so that students can experience real IR situations.