Inside the Boardroom: How Boards Really Work and the Coming Revolution in Corporate Governance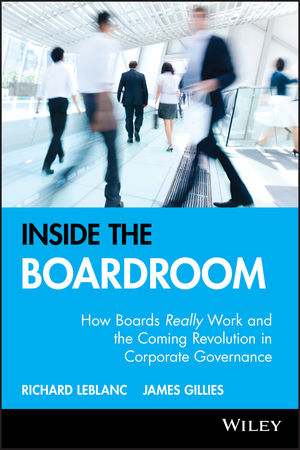 Inside the Boardroom: How Boards Really Work and the Coming Revolution in Corporate Governance
ISBN: 978-0-470-83520-3
May 2005
336 pages
Description
Never before in history has corporate governance received as much attention as it now does. Recent corporate scandals and revelations of questionable business ethics have forced companies and their leadership under the microscope. To deal with the problems, legislation, codes of conduct, and guidelines for corporate governance practices are at an all-time high.
Most of the recent prescriptions for improving corporate governance (including the Sarbanes- Oxley Act) focus on the structure of boards—their size, composition, independence, and so on. But this book shows there is no direct correlation between board structure and corporate performance. Inside the Boardroom goes where few have gone before—behind the closed doors of actual boardrooms—to reveal how boards really work. Based on a five-year study, this book goes behind the scenes to reveal the inner workings of boards of directors, candid interviews with directors, and a comprehensive investigation into boardroom processes.
Explains how boards should be constructed so that, as well as performing monitoring and compliance activities effectively, they also add real value to the enterprise.
Offers practical advice on building a better board, including: how to determine and assess director competencies, how to deal with dysfunctional directors, how to recruit and retain quality directors, how to create position descriptions, how to develop director orientation and education programs, and how to establish performance standards for the board and its individual members.
Features compelling first-hand comments from directors, regulators, chief executive officers, and shareholders that offer candid, and sometimes shocking, revelations of what really goes on behind the boardroom doors.
Provides valuable insights and prescriptions for corporate boards in any industry, government corporations, and not-for-profit organizations.
Foreword.
Acknowledgements.
Introduction.
Chapter 1. Boards of Directors Have Failed and We Don't Know Why.
Chapter 2. The Many Forms of the Modern Corporations.
Chapter 3. Contemporary Directors: Who Are They, What Do They Do, and How Well Do They Do It?
Chapter 4. Best Board Practices and Assessments: Necessary but Not Enough.
Chapter 5. The Traditional Board: The Triumph of Structure.
Chapter 6. The Effective Board: Function Not Form.
Chapter 7. Effective Directors for Effective Boards: Putting Them Together.
Chapter 8. The Director Behavioural Types.
Chapter 9. A Special Type pf Director: The Chair of the Board.
Chapter 10. "C-B-S-R"—How to Build a Better Board.
Chapter 11. The Coming Revolution in Corporate Governance.
Appendix A: Qualitative and Quantitative Research Methodologies: How Do They Differ?
Appendix B: The Research Process: Getting into the Boardrooms, Obtaining the Interviews and Analyzing the Data.
Bibliography.
Index.