Jack Welch Speaks: Wit and Wisdom from the World's Greatest Business Leader , 2nd Edition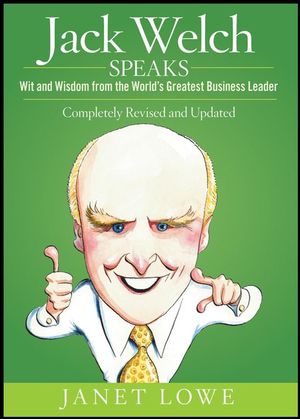 Description
The world listens when Jack Welch Speaks.
Jack Welch is a global business legend. As chairman and CEO of General Electric, he was at the forefront of the reconstruction of American industry. In retirement, he hasn't disappeared from the world's economic canvas, but rather moved from a master manager to the master of his own universe. Now, in this new edition of Jack Welch Speaks, bestselling author Janet Lowe presents Welch—in his own words—and helps you to understand who he is, and how and why he does what he does.
"Jack Welch has long been one of my heroes. When you read this book you will understand why."
—Warren Buffett
CEO, Berkshire Hathaway Inc.
"Jack Welch is a management genius who attacks life as he does business—with unconventional flair, a restless intellect, and no tolerance for phonies."
—Tom Brokaw former anchor and managing editor, NBC
"Jack Welch describes himself as 'just a man in a room.' Janet Lowe takes us into this room by letting the man speak for himself. Through his own words, it becomes clear why he is listened to and emulated all over the world. Big man, big room."
—Sam Nunn, CEO of NTI, former U.S. Senator (Georgia)
Acknowledgments.
Introduction.
IN ONE DECADE: FROM LETTERMAN TO SEINFELD N AMERICAN ODYSSEY.
Growing Up in Salem.
The First to Go to College.
Sports Were Everything.
Ice Can't Form on a Swift-Moving Stream.
Take This Job and Do It.
QUALITIES OF A LEADER: WELCH STYLE.
The Challenge: To Be Fair.
The Temperament of a Boss.
The Thrill of Victory.
A Typical Meeting with Chairman Welch.
Humor Us.
WELCH'S WORLD: GENERAL ELECTRIC.
The Engine Called General Electric.
GE: Just an Everyday $163 Billion Family Store.
Beyond National Borders.
Heros.
The Holy City.
GE Jargon.
Dirty Diamonds and Other GE Scandals.
THE FABRIC OF LEADERSHIP.
Be a Leader, Not a Manager.
No Ideas du Jour.
The Trap: Measuring Everything, Understanding Nothing.
Don't Sell Hats to Each Other.
Share Information.
The Creed.
Four Types of Leaders.
The Best Mutual Fund in the World.
WELCH, THE CHANGE AGENT.
Change Before You Have To.
Go for the Leap.
Managing Paradox.
Productivity: Unlimited Juice in the Lemon.
THE HARDWARE REVOLUTION.
Putting Money on the Right Gambles.
Three Big Circles.
Be Number 1 or Number 2: A Concept That Should Be Gone.
Flattening the GE Wedding Cake.
Downsizing.
Honey, I Shrunk GE.
THE SOFTWARE REVOLUTION.
The Soft Values.
Workout.
Simplicity.
Speed.
Self-Confi dence.
Labor Unions.
A Boundaryless GE.
Searching the Planet for the Best Practices.
Teamwork.
Stretch.
Six Sigma Quality.
It All Comes Out in the Wash.
TAKING STOCK.
Fail Your Way to Success.
Welch's Critics.
The German Point of View.
Being a Good Citizen.
Work/Life Balance.
How Much Is Leadership Worth?
What Made Jack Welch a Success?
THE ROCKY ROAD TO RETIREMENT.
The Race for Jack's Job.
How the Contenders Have Done.
The Honeywell Hustle.
Honeywell after GE.
GE after Jack.
THE REINVENTION OF JACK WELCH.
Falling in Love.
Back at Harvard Business Review: A Moral Dilemma.
Who Is Suzy?
The Dirty Divorce.
Passing Back the Perks.
The Wedding.
The New Couple.
The John F. Welch College of Business.
Jack's New Career.
SUMMING UP.
General Electric and Jack Welch— A Chronology.
Endnotes.
Permissions.