Janice VanCleave's Teaching the Fun of Science to Young Learners: Grades Pre-K through 2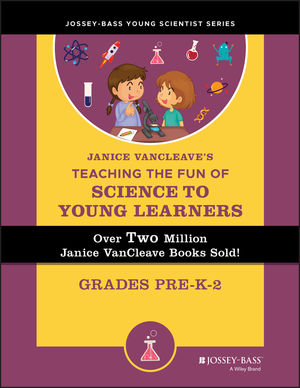 Janice VanCleave's Teaching the Fun of Science to Young Learners: Grades Pre-K through 2
ISBN: 978-0-471-47184-4 February 2008 224 Pages
Description
The book's 75 lessons and reproducible activities touch on all areas of science and provide the key to a world of science magic and mystery. While kids will have fun doing the activities and learning to love science, they are also being encouraged to develop other skills, including reading, writing, math, and art.
The book is designed to help young students catch the "science bug" and find the answers for themselves to these and other questions:
Why do cats have whiskers?
How does a caterpillar change into a butterfly?
Why do elephants have such large ears?
How does a grasshopper grow?
Why is the skin on my elbows so wrinkled?
Why does food taste different when I have a cold?
How can we make perfume from flower petals?
Why does my shadow change during the day?
Cannot be combined with any other offers.
Original Price:CAD $37.98
Purchased together:CAD $28.49
save CAD $9.49
Table of contents
Acknowledgments.
Introduction.
I. Observing.
1. Sight.
2. Hearing.
3. Smell.
4. Taste.
5. Touch.
II. Communicating.
6. Model.
7. Data.
III. Making and Using Definitions.
8. New Words.
9. Dictionary Skills.
IV. Measuring and Estimating.
10. Length.
11. Capacity.
12. Weight.
13. Time.
14. Temperature.
V. Grouping.
15. Classifying.
16. Sequencing.
VI. Investigating.
17. Variables.
18. Scientific Method.
Glossary.
Index.