Lead the Work: Navigating a World Beyond Employment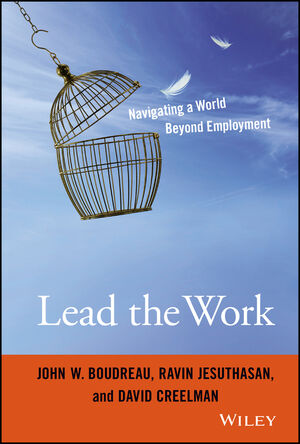 Lead the Work: Navigating a World Beyond Employment
ISBN: 978-1-119-04004-0 July 2015 Jossey-Bass 304 Pages
Description
"If you are a corporate officer, investor or manager, read this book to understand how to lead and engage the new workforce. Share the book with your HR leaders, and discuss how you can work with them to optimize the opportunities, and avoid the pitfalls, of the new global workplace."
—From the Foreword by Diane Gherson, Senior Vice President, Human Resources, IBM
"The workplace is undergoing a profound transformation. John, Ravin, and David demonstrate how work is evolving, and detail what managers need to do differently to win the war for talent. This book is a practical map for managers and employees."
—Maynard Webb, Founder of the Webb Investment Network and Chairman of the Board at Yahoo!
"Lead the Work offers a thoughtful framework for understanding and managing the rapidly evolving nature of how work gets done. While forward looking in its approach, it captures important and practical insights for CEOs operating in today's environment as well."
—Douglas A. Milroy, Chairman and Chief Executive Officer, G&K Services, Inc.
"Free Agent Nation is fast becoming Free Agent World. And in this smart, compelling book, a trio of sharp minds provides the intellectual GPS you'll need to find your way. If you're interested in the future of work, this book is an essential read."
—Daniel H. Pink, author of Free Agent Nation and Drive
"The world of work is changing in just about every way. There are big obvious shifts like globalization and the impact of technology and emerging trends around value and purpose that make us rethink what we are trying to accomplish. Lead the Work is a wonderful combination of theory and practice that explores these changes. It helps us understand what is happening and the 'new choices' we have to innovate and execute. How do we use partners and customers? How can technology source skills from within our own organization? How can work be dissected to be more responsive and fast? John, Ravin, and David help us all be more aware of these fundamental changes and more prepared to make informed and deliberate decisions in this new world of work."
—Scott Pitasky, Executive Vice President and Chief Partner (Human) Resources Officer, Starbucks
"Leadership has become more collective, boundaryless and democratic. A big reason is that work is no longer done only by your employees, but by a vast global community that works in very different ways, and expects very different things. Lead the Work describes a pivotal change in how organizations and workers will engage, a shift as tectonic as past evolutions like online commerce, the sharing economy, and social media. The book draws on engaging stories, scholarly evidence, and best practices from leading organizations, and the decades of experience of its authors. If this evolution in work hasn't reached your organization yet, it will, and its progress will be exponential. This book will help you get ahead of the curve to navigate this new world."
—Adam Grant, Professor, Wharton School of Business, University of Pennsylvania, and New York Times bestselling author of Give and Take
Foreword xvii
Acknowledgments xxi
PART ONE The Background 1
Chapter 1 Leading Work—Not Managing Employees 3
Chapter 2 Free Agent World 23
Chapter 3 Outsourcing and Alliances 35
Chapter 4 The Talent Platforms 50
PART TWO The Model 81
Chapter 5 Leading the Work Beyond Employment: A Decision Framework 83
Chapter 6 How IBM Leads the Work 92
Chapter 7 The Assignment: How Much to Deconstruct, Disperse, and Detach? 111
Chapter 8 The New Organization: Permeable, Interlinked, Collaborative, and Flexible 135
Chapter 9 The Reward: Short-Term, Individualized, and Imaginative 153
PART THREE Implications 175
Chapter 10 Future HR Practices in Leading the Work 177
Chapter 11 Future HR Outcomes in Leading the Work 206
Chapter 12 Governance and Stakeholders 219
Chapter 13 Nations, Citizens, and Children 238
About the Authors 255
Index 257