Living Language: An Introduction to Linguistic Anthropology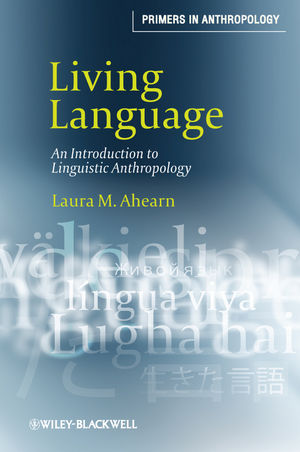 Living Language: An Introduction to Linguistic Anthropology
ISBN: 978-1-444-34054-9 March 2011 Wiley-Blackwell 368 Pages
Description
Accessible and clearly written,
Living Language: An Introduction to Linguistic Anthropology
introduces readers to the study of language in real-life social contexts around the world through the contemporary theory and practice of linguistic anthropology.
A highly accessible introduction to the study of language in real-life social contexts around the world
Combines classic studies on language and cutting-edge contemporary scholarship and assumes no prior knowledge in linguistics or anthropology
Provides a unifying synthesis of current research and considers future directions for the field
Covers key topics such as: language and gender, race, and ethnicity; language acquisition and socialization in children and adults; language death and revitalization; performance; language and thought; literacy practices; and multilingualism and globalization
Table of contents
List of Figures.
List of Tables.
Preface.
Acknowledgments.
Part I: Language: Some Basic Questions.
1. The Socially Charged Life of Language.
2. The Research Process in Linguistic Anthropology.
3. Language Acquisition and Socialization.
4. Language, Thought, and Culture.
Part II: Communities of Speakers, Hearers, Readers, and Writers.
5. Communities of Language Users.
6. Multilingualism and Globalization.
7. Literacy Practices.
8. Performance, Performativity, and the Constitution of Communities.
Part III: Language, Power, and Social Differentiation.
9. Language and Gender.
10. Language, Race, and Ethnicity.
11. Language Death and Revitalization.
12. Conclusion: Language, Power, and Agency.
Notes.
References.
Index.
Reviews
"…Laura Ahearn's Living Language stands out for its deft integration of disparate approaches to linguistic anthropology, highlighting the field's rich range of intellectual genealogies and contemporary innovations."
"This book is deserving of high praise for managing to capture the field's nuance and complexity, while doing so in a way that is accessible, timely, and of interest to both specialists and non-specialists alike."  (Journal of Linguistic Anthropology, 5 December 2014)
"Overall, this reviewer finds the book balanced, appreciable and well written."  (Anthropological Notebooks, 1 October 2012)
"In conclusion, we strongly recommend the book for both undergraduate and graduate introductory courses. In conclusion, we strongly recommend the book for both undergraduate and graduate introductory courses."  (Journal of the Royal Anthropological Institute, 1 November 2012)
"It is a very useful as a library resource and for general readers, as it is well organized, clearly written, and supported with both classic and recent studies. Summing Up: Recommended. General and undergraduate libraries." (Choice, 1 January 2012)
Features
A highly accessible introduction to the study of language in real-life social contexts around the world

Combines classic studies on language and cutting-edge contemporary scholarship

and assumes no prior knowledge in linguistics or anthropology

Provides a unifying synthesis of current research and considers future directions for the field

Covers key topics such as: language and gender, race, and ethnicity; language acquisition a

nd socialization in children and adults; language death and revitalization; performance; language and

t

hought; literacy practices; and multilingualism and globalization