Make Space: How to Set the Stage for Creative Collaboration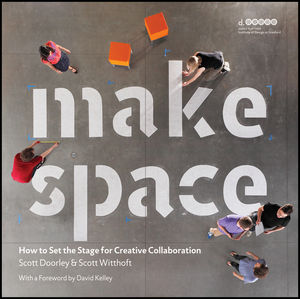 Make Space: How to Set the Stage for Creative Collaboration
ISBN: 978-1-118-14372-8
Dec 2011
272 pages
Description
Bill Moggridge, Director of the Smithsonian's Cooper-Hewitt, National Design Museum:
"If you are determined to encourage creativity and provide a collaborative environment that will bring out the best in people, you will want this book by your side at all times."

James P. Hackett, President and CEO, Steelcase:
"By actively thinking about the implications a space has on its inhabitants, we can create great experiences for those who enter. make space is an articulate account about the importance of space: how we think about it, build it and thrive in it."
Foreword
David Kelley
Preface
George Kembel
The Environments Collaborative
1. Instructions
2. Tools
3. Situations
4. Insights
5. Design Template
6. Space Studies
Index
"If you are determined to encourage creativity and provide a collaborative environment that will bring out the best in people, you will want this book by your side at all times. You can browse it for tools to enhance teamwork, configurations to enable activities, insights about communal behaviors, design templates and first person stories. The way we design our spaces can help us or hinder us, inspire new ideas or stifle them, make it easier to work together or set us apart. Discover here how to improve team dynamics by altering your physical environment."
— Bill Moggridge, Director of the Smithsonian's Cooper-Hewitt National Design Museum