Management, 3rd Canadian Edition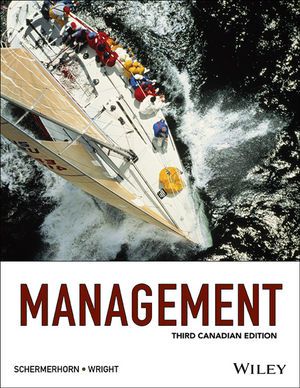 Management, 3rd Canadian Edition
ISBN: 978-1-118-78929-2 December 2013 656 Pages
Description
Schermerhorn, Wright, Management, 3rd Canadian Edition, with its rich Canadian content, accessible writing style, currency, and wealth of resources, is the ideal Introductory Management product that will provide professors the opportunity to offer their students an engaging, adaptive, and interactive experience that will help them succeed in their introductory management course. Students will be able to think critically and make sound business decisions using managerial theory as concepts are explored and reinforced by many hands-on applications, exercises, cases, and the integration of technology.
Management
Chapter 1 Intro to Management
Chapter 2 Management Learning Past to Present
Environment
Chapter 3 Global dimensions of Management
Chapter 4 Ethics, Social Responsibility and sustainability
Chapter 5 Managing Entrepreneurship and Small Business
Planning
Chapter 6 Planning and Techniques
Chapter 7 Strategy and Strategic Management
Organizing
Chapter 8 Organizational Structure  and Design
Chapter 9 Innovation and Organizational Change
Chapter 10 HRM: Building a Winning culture
Leading
Chapter  11 Leadership and communication
Chapter 12 Individual Behaviour
Chapter 13 Information and Decision-Making
Chapter 14 Motivation
Chapter 15 Teams
Control
Chapter 16 Control
Chapter 17 Operations and Services Management
Student engagement: Author video summaries of key chapter concepts are designed to engage students more and assist in their studies. To further engage students,instructors are presented with a guide to flip their classroom by focusing on how to make the classroom a learning ground versus a preaching platform. Students experience learning by doing (both individual and team activities).
Critical thinking: Follow the Story feature box presents real-world examples of management success in career and work situations. As well, Facts for Analysis presents relevant and interesting facts for analysis and discussion.
Self-Reflection and Active Learning: Build Skills and Competencies provides an up-front look at the active learning options in the end-of-chapter Management Skills and Competencies section and Career Situations at the end of each chapter allows students to apply chapter learning to common early-career situations.
This new edition now has WileyPLUS with ORION available. ORION provides students with a personal, adaptive learning experience so they can build their proficiency on topics and use their study time most effectively. ORION makes it easy to know where to start; makes it easy to learn new things; and it makes it easy to remember what you learn!
Business Simulations: A suite of business and ethics simulations is provided through Ethics-LX www.ethics-lx.com.
Student Engagement and Critical Thinking: Thematic Boxes exemplify the importance of the issues managers must face. These boxes provide concise and relevant examples without interrupting the flow of the material. The mini stories and cases in Canadian Company in the News, Canadian Managers, Going Global, and Real Ethics illustrate real-life issues and situations that managers face in the workplace. These, along with Research Brief and chapter Case Studies, allow students to apply theory to practical situations and therefore make the link between theory and practice. Management Smartsassist in developing practical applications. These notepads consist of concise lists of helpful hints and describe 'dos' and 'don'ts' of managerial behaviour. Facts for Analysis and Follow the Story provide ample opportunity for students to hone their critical thinking skills. 
Self-Reflection and Active Learning: The Chapter Openers will also continue to have features such as Learn From Others (which places the chapter content in the context of real people and organizations), Learn About Yourself (which focuses on a critical personal skill or characteristic relevant to the chapter content).  Students are provided with information and insight and are asked to engage in a process of self-reflection.   Each chapter opens with a visual chapter overview, whichlinks study objectives to an overall chapter guide.
Integrated Learning Model: Learning Objectives and Learning Checks throughout each chapter help guide students as they read and study for exams. Management Learning Review at the end of each chapter provides ample opportunity for review and reflection, including a summary of learning objectives, a chapter self-test, short response questions, and an application question.