Manufacturing Processes and Systems, 9th Edition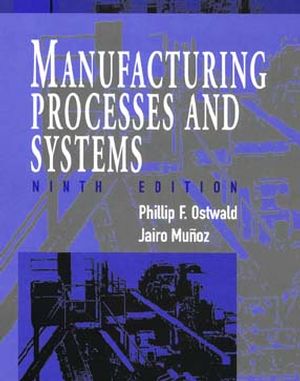 Manufacturing Processes and Systems, 9th Edition
ISBN: 978-0-471-04741-4 January 1997 800 Pages
Description
This authoritative book covers everything an engineer needs to know about manufacturing systems and processes. It presents over 400 manufacturing processes and uses a systems orientation to manufacturing.
Table of contents
The Manufacturing System.

Nature and Properties of Materials.

Production of Ferrous Metals.

Production of Nonferrous Metals.

Foundry Processes.

Contemporary Casting Processes.

Basic Machine Tool Elements.

Sawing, Broaching, Shaping, and Planing.

Grinding and Abrasive Processes.

Pressworking and Operations.

Heat Treating.

Plastic Materials and Processes.

Electronic Fabrication.

Nontraditional Processes and Powder Metallurgy.

Thread and Gear Working.

Operations Planning.

Geometric Dimensioning and Tolerancing.

Metrology and Testing.

Quality Systems.

Computer Numerical Control Systems.

Process Automation.

Operator-Machine Systems.

Cost Estimating.

Bibliography.

Photo Credits.

Index.
New To This Edition
Eight new chapters,
including:
Electronic Fabrication, Operations Planning, Tool Design, Quality Systems, Manufacturing Systems, Operator Machine Systems, and Cost Estimating.
Increased technical content including more numbered equations, technical figures which incorporate working problems, and a range of difficulty in the level of chapter exercises.
Flexible organization of stand-alone chapters allows instructor to pick and choose which topics to cover and in what order.