Mastering Crystal Reports 9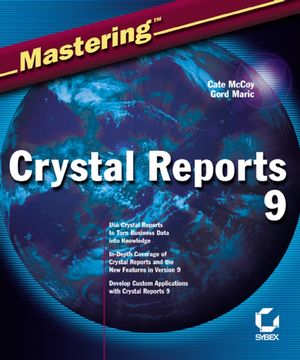 Mastering Crystal Reports 9
ISBN: 978-0-782-14173-3
Nov 2002
704 pages
Product not available for purchase
Description
The ComprehensiveCrystal Reports Resource You've Been Looking For
Mastering Crystal Reports 9 covers basic reporting skills, but its main purpose is to give you the complete coverage other books don't offer. You'll not only thoroughly learn the powerful features of Crystal Reports 9, but also how to develop custom applications to meet the specific needs of your organization. With Crystal Reports 9, this is more important than ever, because it provides unprecedented new ways to extend its analytical and reporting capabilities and make crucial information available throughout the enterprise.
Coverage Includes
* Building a report using all core report design elements
* Sorting, grouping, and charting data
* Connecting to various data source types
* Working with multiple tables in a report
* Creating custom functions
* Adding custom functions, graphics, and SQL commands to the Crystal Repository
* Understanding the multi-pass processing model
* Creating and using reusable report templates
* Retrieving data using SQL queries
* Understanding object oriented programming concepts as they relate to Crystal Reports
* Deploying reports to the desktop, corporate intranet, or Web
* Deploying a report as a web service and with ASP
* Creating Windows Crystal Reports applications using Visual Basic or the .NET platform
* Using Report Application Server for web-based reporting and analysis
Introduction.
Part 1: Report Writing Fundamentals.
Chapter 1: Building Your First Report.
Chapter 2: Modifying a Report.
Chapter 3: Formatting Fields and Objects.
Part 2: Putting Report Elements to Work.
Chapter 4: Adding Business Logic with the Formula Workshop.
Chapter 5: Working with the Crystal Repository.
Chapter 6: Summarizing Information.
Chapter 7: Selectively Refining a Report Using Data Values.
Chapter 8: Customizing Sections.
Part 3: Advanced Reporting.
Chapter 9: Working with Multiple Tables.
Chapter 10: Data Sources and the Database Expert.
Chapter 11: Using SQL in Crystal Reports.
Chapter 12: Analyzing Data Visually.
Chapter 13: Report Templates.
Chapter 14: The Report Engine Processing Model.
Chapter 15: Configuring Your Design Environment.
Part 4: Application Development with Crystal Reports.
Chapter 16: Deploying Your Report.
Chapter 17: The Crystal Programming Forest.
Chapter 18: The Object-Oriented Primer.
Chapter 19: Building Windows Applications with the Report Designer Component.
Chapter 20: ASP Web Applications.
Chapter 21: .NET Applications.
Chapter 22: XML Web Services.
Part 5: Enterprise Reporting.
Chapter 23: Crystal Enterprise.
Chapter 24: Report Application Server.
Appendices.
Appendix A: Crystal Reports Editions.
Appendix B: Developer Reference Documentation.
Appendix C: Crystal Reports and Java.
Appendix D: Crystal Reports Custom Functions.
Appendix E: Crystal Reports Built-in Functions.
Index.
Download All Code Used in the Book
Download a .zip file with all the code and examples used in the book.
To uncompress the file, Windows users can use Windows built-in ZIP utilities or a 3rd party utility like WinZip or WinRAR. Macintosh users can simply double-click the downloaded file to extract using the built-in archive utility.
Download
Chapter
Page
Details
Date
Print Run
Combined Errata


Page 267

Para. 2 (ADO). Figure should be read 10.28 not 10.27.




---