Mobile Agents in Networking and Distributed Computing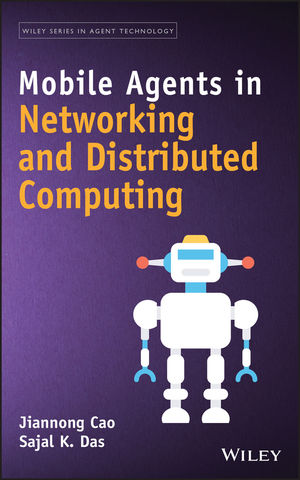 Mobile Agents in Networking and Distributed Computing
ISBN: 978-0-471-75160-1
Jul 2012
352 pages
Description
This book simplifies the development of networks and distributed systems and improves their performance using mobile agent technology
Mobile Agents in Networking and Distributed Computing explores mobile agents, sophisticated computer programs that can autonomously migrate between network sites and between computers. The authors begin with an overview of the most current mobile agent technology in use today. Next, they guide readers through the key concepts and principles of mobile agents. Finally, they present the most recent applications of mobile agents in networking and distributed computing, including e-commerce, information retrieval, process coordination, mobile computing, personal assistance, and network management.
Key Features:
Explains how mobile agents streamline the development of networks and distributed systems
Shows how mobile agents can dramatically improve the performance of networks and distributed systems
Explores a broad range of mobile agent applications in networks and distributed systems
Offers a systematic overview of the latest mobile agent technology
Introduces all of the key concepts and principles that readers need to know in order to take full advantage of mobile agents
This book is recommended for graduate students in telecommunications, networking, and distributed computing fields. Presenting all the latest technology, it also serves as a reference for professionals in the field.
FOREWORD ix
PREFACE xi
CONTRIBUTORS xiii
PART I INTRODUCTION 1
1 Mobile Agents and Applications in Networking and Distributed Computing 3
PART II PRINCIPLES OF APPLYING MOBILE AGENTS 17
2 Mobile Agent Communications 19
3 Distributed Security Algorithms for Mobile Agents 41
4 Mobile Agent Coordination 71
5 Cooperating Mobile Agents 93
PART III MOBILE AGENT BASED TECHNIQUES AND APPLICATIONS 127
6 Network Routing 129
7 Resource and Service Discovery 161
8 Distributed Control 189
9 Distributed Databases and Transaction Processing 219
10 Mobile Agents in Mobile and Wireless Computing 243
PART IV DESIGN AND EVALUATION 263
11 Naplet: Microkernel and Pluggable Design of Mobile Agent Systems 265
12 Performance Evaluation of Mobile Agent Platforms and Comparison with Client–Server Technologies 299
Index 323