Offender Rehabilitation in Practice: Implementing and Evaluating Effective Programs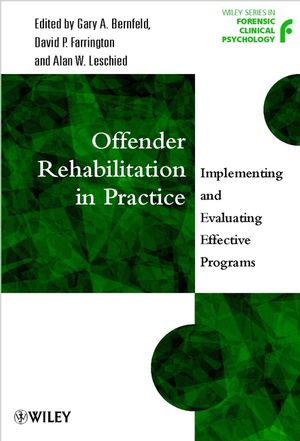 Offender Rehabilitation in Practice: Implementing and Evaluating Effective Programs
ISBN: 978-0-471-72026-3
Aug 2001
308 pages
Description
Offender Rehabilitation in Practice is the first book in its field to reconcile the perspectives of both researchers and practitioners. Bernfeld, Farrington and Leschied go beyond the concept of "what works", by combining a review of this knowledge, with an effective guidebook on the implementation of state-of-the-art programs in the field.

Divided into three parts, all the chapters have either a programmatic, or an economic, or a policy focus. Part I discusses key issues in operational effectiveness. Part II details implementation issues arising from specific programs. Part III takes a much broader view by reviewing the experiences of those involved in the implementation of, the evaluation of, and consultation for correctional programs across multiple sites.

With its emphasis on technology transfer, Offender Rehabilitation in Practice will be invaluable to a wide range of professionals in the adult and juvenile correctional field, including practitioners, administrators, policymakers and researchers.

This book is published in the Wiley Series in Forensic Clinical Psychology
About the Editors.

List of Contributors.

Series Editors' Preface.

Preface.

INTRODUCTION.

Implementation Issues (A. Leschied, et al.).

PART I: KEY ISSUES IN CORRECTIONAL EFFECTIVENESS.

What Works in Correctional Intervention? Evidence and Practical Implications (J. McGuire).

Evaluating the Economic Efficiency of Correctional Intervention Programs (B. Welsh & D. Farrington).

Evaluating the Effectiveness of Correctional Programs: Bridging the Gap Between Research and Practice (F. Losel).

PART II: IMPLEMENTING SPECIFIC PROGRAMS.

A Multi-Level Perspective on the Implementation of Multisystemic Therapy (MST): Attempting Dissemination with Fidelity (D. Edwards, et al.).

Aggression Replacement Training: Application and Evaluation Management (A. Goldstein & B. Glick).

In Search of Program Implementation: 792 Replications of the Teaching-Family Model (D. Fixsen, et al.).

The Struggle for Treatment Integrity in a "dis-integrated" Service Delivery System (G. Bernfeld).

"Straight Thinking on Probation": Evidence-based Practice and the Culture of Curiosity (P. Raynor & M. Vanstone).

Designing, Implementing and Managing Treatment Programs for Violent Offenders (R. Serin & D. Preston).

PART III: IMPLEMENTING GENERAL PROGRAMS.

Implementing Offender Classification Systems: Lessons Learned (J. Bonta, et al.).

Implementation Guidelines for Correctional Programs in the "Real World" (P. Gendreau, et al.).

The Role of the Consultant in Developing Effective Correctional Programs (C. Hollin).

Index.
"...For a reader interested in a broad and theoretical review...this book is to be recommended..." (Forensic Update, July 2002)