Osseointegration and Dental Implants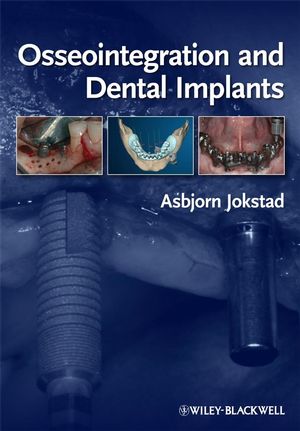 Osseointegration and Dental Implants
ISBN: 978-0-813-81341-7
Jan 2009, Wiley-Blackwell
448 pages
Description
Osseointegration and Dental Implants offers a comprehensive guide to the state of the art of implant dentistry. Based around the proceedings of the Toronto Osseointegration Conference Revisited, it gathers together information on all aspects of implant dentistry and osseointegration, from basic scientific background, such as the biology of osseointegration and the biomechanics of implant surface design, to clinical relevance, such as treatment planning, loading protocols, and patient rehabilitation. This unique book shows implant dentistry as it is today, in all its diverse clinical applications, and provides an expert discussion of what we know, what we think we know, and what we need to find out.
Buy Both and Save 25%!
Original Price:CAD $487.98
Purchased together:CAD $365.99
save CAD $121.99
Cannot be combined with any other offers.
Foreword ix
Preface xi
Contributing Authors xiii
Introduction xix
Asbjorn Jokstad
1 Implant Dentistry: A Technology Assessment 3
How Many Implant Systems Do We Have and Are They Documented? 3
Asbjorn Jokstad
What Have We Learned from Randomized Controlled Clinical Trials on Oral Implants? 9
Marco Esposito, Maria Gabriella Grusovin, Paul Coulthard, and Helen Worthington
Systematic Reviews of Survival and Complication Rates of Implant-Supported Fixed Dental Prostheses and Single Crowns 14
Bjarni Elvar Pætursson
2 Comprehensive Treatment Planning for Complete Arch Restorations 27
Treatment of the Edentulous Maxilla and Mandible with Implant-Retained Overdentures 27
David A. Felton
Key Implant Positions and Implant Number: A Biomechanical Rationale 32
Carl E. Misch
Treatment Alternatives for the Terminal Dentition Patient 35
Luca Cordaro
3 Comprehensive Treatment Planning for the Patient with Complex Treatment Needs 43
The Challenging Patient with Facial Deformities, Rare Disorders, or Old Age 43
Birgitta Bergendal, James D. Anderson, and Frauke Müller
4 Comprehensive Treatment Planning for the Patient with Oral or Systemic Inflammation 63
The Efficacy of Osseointegrated Dental Implants for Periodontally Compromised Patients 63
Myron Nevins and David M. Kim
Profiles and Treatment Options for Refractory Patients in a Periodontal Practice 70
Øystein Fardal and Gerard J. Linden
Systemic Implications of Periimplant Infl ammation: Mimicry of the Periodontitis-Systemic Disease Model? 74
Howard C. Tenenbaum, Michael Glogauer, Michael Landzberg, and Michael Goldberg
5 Surgery Phase Planning 85
Advances in Diagnosis and Treatment Planning Utilizing CT Scan Technology for Improving Surgical and Restorative Implant Reconstruction: Tools of Empowerment 85
Scott D. Ganz
Immediate Implants in Infected Sites: Contraindications Reconsidered 95
Jay R. Beagle
Image-Based Implant Therapy: Current Status and Future Perspectives 101
Homah Zadeh
6 Pre-implant Surgical Interventions 117
Horizontal and Vertical Bone Regeneration in the Maxilla and Mandible 117
Burton Langer
Pre-implant Surgical Interventions Tissue-Engineering Solutions 125
E. Todd Scheyer
Guided Bone Regeneration with or without Bone Grafts: From Experimental Studies to Clinical Application 129
Nikolaos Donos
7 Pre-implant Surgical Augmentation Interventions 141
Hard-Tissue Augmentation to Osseointegrate Implants 141
Friedrich W. Neukam, Emeka Nkenke, and Rainer Lutz
Onlay and Inlay Grafting in Implant Rehabilitation: Clinical Aspects 148
Karl-Erik Kahnberg
Is Autogenous Bone Still the "Gold Standard" for Grafting? Current Opinion on the Use of Autograft in Implant Dentistry 152
Craig M. Misch
8 Pre-implant Surgical Interventions with Focus on the Maxilla 167
Evolution of the Sinus Augmentation Procedure: 1982, 2008, and Beyond 167
Stephen S. Wallace and Stuart J. Froum
Bone Augmentation in the Severely Resorbed Maxilla 175
Lars Rasmusson
9 Biomaterials and Substances for Site Optimizing 183
Alveolar Augmentation: Past, Present, and Future 183
Ulf M.E. Wikesjö, Massimo Simion, and Michael S. Reddy
10 Implant Surgery Interventions 197
Three-Dimensional Reverse Tissue Engineering for Optimal Dental Implant Reconstruction 197
Michael A. Pikos and Albert H. Mattia
11 The Implant and Biological Response 205
The Healing Bone-Implant Interface: Role of Micromotion and Related Strain Levels in Tissue 205
John B. Brunski, Jennifer A. Currey, Jill A. Helms, Philipp Leucht, Antonio Nanci, and Rima Wazen
12 The Implant Surface and Biological Response 213
The Changing Interface 213
John E. Davies, Peter Schüpbach, and Lyndon Cooper
13 The Implant Design and Biological Response 225
Influences of Implant Design and Surface Properties on Osseointegration and Implant Stability 225
Jan Gottlow
Implant Surface Design and Local Stress Fields—Effects on Peri-implant Bone Formation and Retention with "Short" Porous-Surfaced Implants 230
Robert M. Pilliar
14 Loading Protocols and Biological Response 239
Peter K. Moy, Georgios E. Romanos, and Mario Roccuzzo
15 Restorative Phase Treatment Planning 255
Integration of Biological Principles to Achieve Stable Aesthetics 255
Clark M. Stanford
Changing Rationales: Connecting Teeth with Implants by a Suprastructure 260
Paul Weigl
16 Restorative Phase Treatment Planning Using Shortened Clinical Protocols 269
Stability of Implant-Abutment Connections 269
Thomas D. Taylor
Shortened Clinical Protocols: The (R)evolution Is Still Ongoing 273
Roland Glauser
17 The Transmucosal Component and the Supraconstruction Revolution 279
Abutment Design and Materials Using CAD/CAM Technology 279
Steven E. Eckert
CAD/CAM in Implant Dentistry 285
Jörg-R. Strub and Siegbert Witkowski
18 The Implant Design and Clinical Outcomes 295
Contemporary Dental Implants and Clinical Performance 295
John K. Schulte and Shadi Daher
The Internal Connection: A Contributing Factor to Achieving an Aesthetic Result 302
Antonio Sanz Ruiz
19 Loading Protocols and Clinical Outcomes 311
What Have We Learned about the Influence of Loading on the Quality and Maintenance of Osseointegration? 311
Ignace Naert, Katleen Vandamme, and Joke Duyck
The Concept of Early Loading 315
Hans-Peter Weber
What Have We Learned from Clinical Trials about Early Loading of Implants? 319
Asbjorn Jokstad
20 Patient Focus on Neurophysiology 333
A Neurophysiologic Perspective on Rehabilitation with Oral Implants and Their Potential Side Effects 333
Barry J. Sessle, Iven Klineberg, and Peter Svensson
21 Patient Focus on Expected and Unexpected Outcomes 345
Dental Implant Innovations—Growing Evidence for Best Decisions 345
Kent Knoernschild
Subjective and Objective Evaluation of Implant-Supported Reconstructions for Partially Edentulous Patients 354
Klaus Gotfredsen
22 Patient Focus on Function and Quality of Life and Future Implementation 361
J. Mark Thomason, Jocelyne S. Feine, and Daniel Wismeijer
23 Dental Implants in the Habilitation of Young Patients 373
George K.B. Sándor
24 Minimum Competency for Providing Implant Prosthodontics—What Should Be the Educational Requirements? 381
Guaranteeing Treatment for Everyone: Changing Educational Criteria for "Garden Variety" Cases to Major Bone Grafts 381
Kenneth W.M. Judy
Appendix: The Toronto Osseointegration Conference Revisited, May 9–10, 2008: Program and Biographies of Speakers 385
Index 405
Dutch Journal of Dentistry
Mw. M. van Beers, editorial manager
  Redactie Nederlands Tijdschrift Tandheelkunde
Postbus 1378
3430 BJ Nieuwegein


Based around the proceedings of the 2008 Toronto Osseointegration Conference, to provide a stand-alone book surveying clinical and applied aspects of implant dentistry and osseointegration

Provides a comprehensive survey of the state of the art of today's implant dentistry

Covers both clinical practice, basic scientific research, and the current and future directions of both

Authors drawn from international leaders on implant dentistry

Highly illustrated with clinical images in full color