Philosophy as a Way of Life: Spiritual Exercises from Socrates to Foucault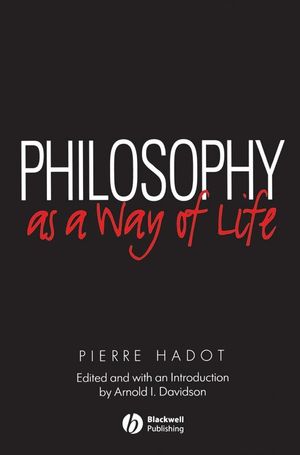 Philosophy as a Way of Life: Spiritual Exercises from Socrates to Foucault
ISBN: 978-0-631-18033-3 July 1995 Wiley-Blackwell 320 Pages
Description
This book presents a history of spiritual exercises from Socrates to early Christianity, an account of their decline in modern philosophy, and a discussion of the different conceptions of philosophy that have accompanied the trajectory and fate of the theory and practice of spiritual exercises. Hadot's book demonstrates the extent to which philosophy has been, and still is, above all else a way of seeing and of being in the world.
Table of contents
Translator's Note.
Introduction.
Part I: Method: .
1. Forms of Life and Forms of Discourse in Ancient Philosophy.
2. Philosophy, Exegesis and Creative Mistakes.
Part II: Spiritual Exercise: .
3. Spiritual Exercise.
4. Ancient Spirituality and 'Christian Philosophy.'.
Part III: Figures: .
5. Figure of Socrates.
6. Marcus Aurelius.
7. Reflections of the Idea of the 'Cultivation of the Self'.
Part IV: Themes:.
8. Only the Present is our Happiness.
9. The View From Above.
10. The Sage and the World.
11. Philosophy as a Way of Life.
Postscript.
Bibliography.
Index.
Reviews
"Hadot's essays exhibit impressive scholarship and a habit of profound reflection. This is not a book for the casual reader but it is an important publication and should be a required text for every student of philosophy, classics and the history of ideas, and for any serious teacher of these subjects."
The Tablet
<!--end-->"Hadot's work is very engaging, knowledgeable, well written and insightful. I highly recommend this book for both general and professional readers." Richard S. Findler, Phil dept, Slippery Rock University for the History of European Ideas

"Recommended for upper-division undergraduates, graduate students, and faculty." H. L. Shapiro, University of Missouri for Choice
Features
* Hadot was a major influence on Foucault and French Philosophy.
* This is the first time Hadot's work has been available in English.