Photography After Conceptual Art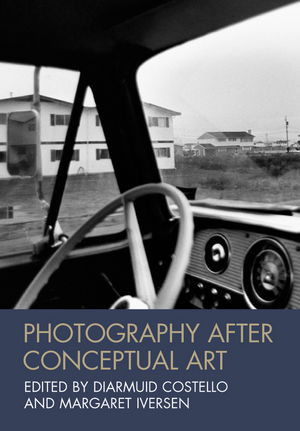 Photography After Conceptual Art
ISBN: 978-1-444-33360-2 November 2010 Wiley-Blackwell 208 Pages
Description
Photography After Conceptual Art presents a series of original essays that address substantive theoretical, historical, and aesthetic issues raised by post-1960s photography as a mainstream artistic medium 
Selected by Choice as an Outstanding Academic Title for 2011
Appeals to people interested in artist's use of photography and in contemporary art  
Tracks the efflorescence of photography as one of the most important mediums for contemporary art 
Explores the relation between recent art, theory and aesthetics, for which photography serves as an important test case 
Includes a number of the essays with previously unpublished photographs
Artists discussed include Ed Ruscha, Bernd and Hilla Becher, Douglas Huebler, Mel Bochner, Sherrie Levine, Roni Horn, Thomas Demand, and Jeff Wall
1. Introduction: Photography After Conceptual Art (Diarmuid Costello, University of Warwick and Margaret Iversen, University of Essex).
2. Auto-Maticity: Ruscha and Performative Photography (Margaret Iversen, University of Essex).
3. Ed Ruscha, Heidegger, and Deadpan Photography (Aron Vinegar, Ohio State University).
4. Subject, Object, Mimesis: The Aesthetic World of The Bechers' Photography (Sarah E. James, University of Oxford).
5. Exit Ghost: Douglas Huebler's Face Value (Gordon Hughes, Rice University).
6. Productive Misunderstandings: Interpreting Mel Bochner's Theory of Photography (Luke Skrebowski, Middlesex University).
7. Roni Horn's Icelandic Encyclopedia (Mark Godfrey, Tate Modern).
8. Thomas Demand, Jeff Wall And Sherrie Levine: Deforming 'Pictures' (Tamara Trodd, University of Cambridge).
9. Almost Merovingian: On Jeff Wall's Relation to Nearly Everything (Wolfgang Brückle, University of Essex).
10. Morning Cleaning: Jeff Wall and The Large Glass (Christine Conley, University of Ottawa).
Index.
"This volume is the product of both a large-scale research grant and a conference ... All the same, this book could be of interest to those teaching and studying photography in contemporary art." (International Journal of Education through Art, 2011)
"This volume is indispensable for theorists and historians of photography, as well as those concerned with post-1960s contemporary visual culture. Highly recommended. Upper-division undergraduates and above." (Choice, 1 May 2011)