Practical Approaches to Method Validation and Essential Instrument Qualification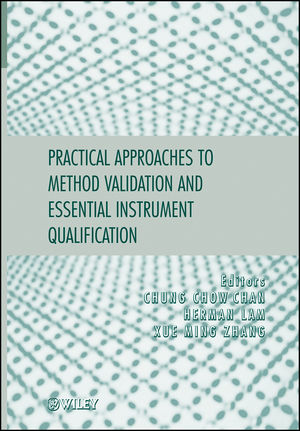 Practical Approaches to Method Validation and Essential Instrument Qualification
ISBN: 978-0-470-12194-8 September 2010 416 Pages
Description
Practical approaches to ensure that analytical methods and instruments meet GMP standards and requirements
Complementing the authors' first book, Analytical Method Validation and Instrument Performance Verification, this new volume provides coverage of more advanced topics, focusing on additional and supplemental methods, instruments, and electronic systems that are used in pharmaceutical, biopharmaceutical, and clinical testing. Readers will gain new and valuable insights that enable them to avoid common pitfalls in order to seamlessly conduct analytical method validation as well as instrument operation qualification and performance verification.
Part 1, Method Validation, begins with an overview of the book's risk-based approach to phase appropriate validation and instrument qualification; it then focuses on the strategies and requirements for early phase drug development, including validation of specific techniques and functions such as process analytical technology, cleaning validation, and validation of laboratory information management systems

Part 2, Instrument Performance Verification, explores the underlying principles and techniques for verifying instrument performance—coverage includes analytical instruments that are increasingly important to the pharmaceutical industry, such as NIR spectrometers and particle size analyzers—and offers readers a variety of alternative approaches for the successful verification of instrument performance based on the needs of their labs
At the end of each chapter, the authors examine important practical problems and share their solutions. All the methods covered in this book follow Good Analytical Practices (GAP) to ensure that reliable data are generated in compliance with current Good Manufacturing Practices (cGMP).
Analysts, scientists, engineers, technologists, and technical managers should turn to this book to ensure that analytical methods and instruments are accurate and meet GMP standards and requirements.
Chapter 1 Overview of Risk Based Approach to Phase Appropriate Validation and Instrument Qualification.
Chapter 2 Phase Appropriate Method Validation.
Chapter 3 Analytical Method Verification, Method Revalidation, and Method Transfer.
Chapter 4 Validation of PAT Applications.
Chapter 5 The Validation of Near Infrared Systems for Raw Material Identification.
Chapter 6 Cleaning Validation.
Chapter 7 Risk Based Validation of laboratory Information Management Systems (LIMS).
Chapter 8 Performance Qualification and Verification of Balance.
Chapter 9 Performance Verification of NIR Spectrophotometers.
Chapter 10 Operational Qualification in Practice for Gas Chromatography Instruments.
Chapter 11 Performance Verification on RI, Fluorescence, Evaporative Light Scattering Detection.
Chapter 12 Instrument Qualification and Performance Verification for Particle Size Instruments.
Chapter 13 Method Validation, Qualification, and Performance Verification for Total Organic Carbon (TOC) Analyzers.
Chapter 14 Instrument Performance Verification - Micro Pipettes.
Chapter 15 Instrument Qualification and Performance Verification for Automated Liquid Handling Systems.
Chapter 16 Performance Qualification and Verification in Powder X-ray Diffraction.