Public Participation for 21st Century Democracy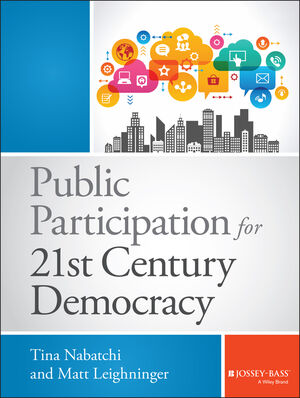 Public Participation for 21st Century Democracy
ISBN: 978-1-118-68840-3
May 2015, Jossey-Bass
368 pages
Description
Activate the Democratic, Problem-Solving Potential of Citizens
Public Participation for 21st Century Democracy takes a detailed look at the fascinating past, frustrating present, and promising future of public participation. Covering both theory and practice, the book describes how engagement happens—and how it could happen more effectively—in the context of education, health, land use, and state and federal policymaking. The discussion strips away the false assumptions about citizenship and explores what people really want out of public life: problem solving, civility, and community. The book describes the many tools for productive participation, from the proven meeting formats to the latest apps, and discusses ways to embed them in how governance works.
Track the evolution of public participation in the U.S.
Discover how participation is crucial to our health, schools, and economy
Learn how to match participation tactics to specific scenarios
Understand the need for stronger participation infrastructure, and how to build it
Public Participation for 21st Century Democracy is a unique and important resource for anyone interested in creating smarter, fairer, stronger forms of democracy.
List of Figures, Exhibits, and Tables ix
Preface xi
Acknowledgments xiii
About the Authors xv
PART ONE Participation in a Rapidly Changing Democracy 1
ONE Citizenship, Outside the Public Square 3
TWO Good or Bad? Charming or Tedious? Understanding Public Participation 13
THREE Pictures from a (R)evolution: The Fitful Development of Public Participation in the United States 45
PART TWO Participation in Action 75
FOUR Participation in Education 77
FIVE Participation in Health 117
S I X Participation in Planning and Land Use 155
SEVEN Participation in State and Federal Government 195
PART THREE Participation for Democracy, Present and Future 239
EIGHT Participation Scenarios and Tactics 241
NINE Assembling Participation Infrastructure 287
TEN Building Democracy 305
Name Index 329
Subject Index 337
Welcome: Introduction

Download
Chapter 1 Presentation

Download
Chapter 2 Presentation

Download
Chapter 3 Presentation

Download
Chapter 4 Presentation

Download
Chapter 5 Presentation

Download
Chapter 6 Presentation

Download
Chapter 7 Presentation

Download
Chapter 8 Presentation

Download
Chapter 9 Presentation

Download
Chapter 10 Presentation

Download
Supplemental Readings

Download
Activities and Exercises

Download
Participation Skills Module
This downloadable Participation Skills Module examines ten key talents (each with specific skill sets) for public participation. The module concludes with a list of discussion questions and has an accompanying PowerPoint Presentation.
Download
Participation Skills Presentation

Download
Recommended Books

Download