Sentiment in the Forex Market: Indicators and Strategies To Profit from Crowd Behavior and Market Extremes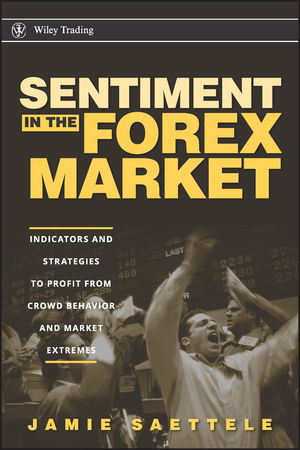 Sentiment in the Forex Market: Indicators and Strategies To Profit from Crowd Behavior and Market Extremes
ISBN: 978-1-118-42880-1
Jun 2012
196 pages
Product not available for purchase
Description
SENTIMENT IN THE FOREX MARKET
With a number of firms now offering retail traders direct access to the interbank foreign exchange market, participation in the FX market has grown substantially. As a result, the amount of technical and fundamental information available to traders has increased exponentially in recent years. An area that has failed to receive the same amount of attention is sentiment.
Trading on sentiment works because market tops occur when the majority of traders are overwhelmingly bullish and market bottoms occur when an overwhelming majority is bearish. Traders that understand how to determine when a particular market is extremely bullish or bearish have an edge over those traders that follow only traditional technicals or fundamentals.
Nobody is more familiar with this situation than author Jamie Saettele. As a Technical Currency Analyst for Forex Capital Markets LLC—the largest player in the online currency-trading industry—Saettele shares his invaluable insights with thousands of traders each day. Now, with Sentiment in the Forex Market, he'll show you how to achieve unparalleled investment success by integrating only the most effective sentiment indicators into your daily currency trading activities.
Written with the serious trader in mind, this practical guide provides you with the knowledge needed to develop a top-down, sentiment-based approach to trading the Forex market. Throughout these pages, Saettele puts the entire process in perspective, as he examines how to use Commitments of Traders (COT) reports and other important indicators to locate sentiment extremes that can lead to profitable market reversals. Along the way, he also explains how to interpret market news coverage to gain a greater sense of when participants have become overly bullish or bearish. After exploring what it takes to gauge the psychological state of the market, Saettele rounds out the discussion by addressing how to assess risk and time your currency trades using Elliott Wave theory, Fibonacci principles, and other powerful technical tools.
To profit from today's foreign exchange market, sentiment should play an important role in your trading program. With Sentiment in the Forex Market as your guide, you'll quickly discover why this is true and how you can make more money with this proven method.
Preface.
Acknowledgments.
Chapter 1. The Argument for a Sentiment-Based Approach.
What Is Fundamental?
Top-Down Approach.
Reminiscences of a Stock Operator.
Chapter 2. The Problem with Fundamental Analysis.
How the Brain Works.
The Myth of Economic Indicators.
Nonfarm Payrolls.
Gross Domestic Product.
Trade Balance.
Treasury International Capital.
Producer and Consumer Price Indexes.
Conclusion.
Chapter 3. The Power of Magazine Covers.
The Death of Equities—August 13, 1979.
Magazine Covers in the Currency Market.
Conclusion.
Chapter 4. Using News Headlines to Generate Signals.
Where to Look.
Conclusion.
Chapter 5. Sentiment Indicators.
Commitments of Traders Reports.
History of U.S. Futures Trading.
Currency Futures History.
Reading the COT Report.
Using COT Data with Spot FX Price Charts.
Understanding the Data.
Watching the Commercials.
Watching the Speculators.
Commercial and Speculators Give the Same Signal.
The Approach.
Open Interest.
Other Sentiment Indicators.
Conclusion.
Chapter 6. The Power of Technical Indicators.
What Is Technical Analysis?
Keep It Simple.
What Time Frames to Use?
Support and Resistance.
Determining a Bias.
Fancy Momentum Indicators and Overbought/Oversold.
When to Get Out.
Chapter 7. Explanation of Elliott Wave and Fibonacci.
Who Was Elliott?
Fibonacci: The Mathematical Foundation.
Ratios.
Specific Setups.
Some Differences between Stocks and FX in Elliott.
Building Up from Lower Time Frames.
Multiyear Forecast for the US Dollar.
Multiyear Forecast for the USDJPY.
Conclusion.
Chapter 8. Putting It All Together.
Why Most Traders Lose.
Developing a Process.
In Conclusion.
Notes.
Index.