Service Design for Business: A Practical Guide to Optimizing the Customer Experience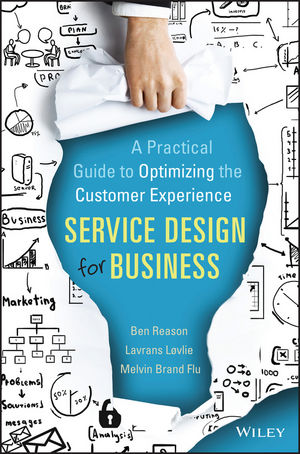 Service Design for Business: A Practical Guide to Optimizing the Customer Experience
ISBN: 978-1-118-98892-3 December 2015 208 Pages
Description
TRANSFORM YOUR CUSTOMERS' EXPERIENCE THROUGH SERVICE DESIGN
"Service design has been around for 20 years and has matured from a niche design discipline to a more comprehensive and accessible way to tackle customer, business, and organizational challenges. However, it is still under recognized and undervalued by businesses. This book aims to address this in two ways. First, by putting the value of service design into business terms and second, by showing how service design can connect to core business outcomes and capabilities."
—FROM THE INTRODUCTION
From Ben Reason, Lavrans Løvlie, and Melvin Brand Flu, the directors of Livework—the groundbreaking service design company—comes Service Design for Business. This is the indispensable guide for any organization that wants to move their customers to a more positive experience. The authors show how to transform your customer's experience and keep them engaged through the art of intentional service design.
Written in practical terms, Service Design for Business offers all types of organizations (business-to-consumer, business-to-business, or government services) a proven, effective approach for better responding to customers' needs and demands, and provides a strategy that can be implemented immediately.
Reason, Løvlie, and Brand Flu walk you through their winning service design approach to problem solving that can help your business succeed. They give you the tools to tackle the common challenges and resolve real issues in order to move your business forward. Organized for easy navigation, this essential handbook offers the information needed for connecting market factors to the organizational challenge of customer experience by seeing your company through the customers' eyes.
For additional content, cases studies and tools relevant to this book, please visit: www.liveworkstudio.com/SDinB
Introduction vii
Chapter 1 Why Service Design 1
Three Trends That Make Service Design Relevant Today 2
Use Service Design to Deal with Business Ambitions and Organizational Challenges 4
Key Concepts 7
Chapter 2 Foundations: Three Critical Factors in Service Design 15
Movement 17
Structures 32
Behavior 44
Challenges 50
Chapter 3 The Customer Story: Understanding Customers Better Provides the Basis for Customer-Driven Service Improvement and Innovation 53
Get the Basics Right and Achieve Customer Experience Excellence 54
Prevent Customer Irritations and Failures 62
Engage Customers Effectively 70
High-Impact Customer Innovations 78
Chapter 4 Business Impact: Designing a Service around Customers' Needs Provides a New Way to Address Age-Old Business Challenges 87
Innovate New Business Concepts 88
Becoming a More Digital Business 96
Achieve Higher Customer Performance 106
Successful Launch and Adoption of a New Product or Service 117
Chapter 5 Organizational Challenge: Using Customer Centricity to Move Your Organization Forward 125
Foster Internal Alignment and Collaboration 126
Deliver Better Staff Engagement and Participation 134
Build a Customer-Centric Organization 141
Building a More Agile Organization 151
Chapter 6 Tools 161
Customer Profiles 162
Customer Insights 164
Customer Journeys 166
Customer LifeCycles 168
Cross-Channel Views 170
Service Scenarios 172
Organizational Impact Analysis 174
Creative DesignWorkshops 177
Acknowledgements 181
Index 183