Solving Cryptic Crosswords For Dummies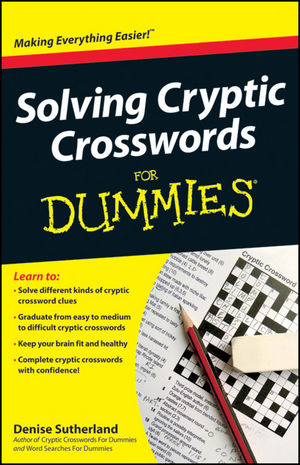 Solving Cryptic Crosswords For Dummies
ISBN: 978-1-118-30525-6 October 2012 216 Pages
Description
Master the cryptic crossword at any difficulty level
Even experienced crossword solvers struggle with cryptics. Solving Cryptic Crosswords For Dummies helps all crossword lovers — from casual to expert — master the feats of mental gymnastics required to conquer these puzzles. Packed with clear explanations, helpful hints and practice grids, this book explains how to approach cryptic crosswords in a clear and logical manner.
Learn the basics — discover how to decipher the common types of cryptic clues
Find hidden messages with ease — become a master at uncovering disguised solutions
Understand the importance of anagrams — find out how to decode anagram clues
Put your new-found skills to use — test yourself with plenty of practice puzzles covering all difficulty levels
Incorporate letter-gathering — decipher abbreviations and other bits and pieces
Explore different international puzzles — understand the variations in puzzles from around the globe
Open the book and find:
Information on the mental benefits of solving cryptic crosswords
Tips on how to identify different kinds of clues
Worked examples and clear explanations
Practice clues and grids for all levels of experience
Hints to help you on your way if you're stuck
Reference lists to help you decipher the cryptic code
Learn to:
Solve different kinds of cryptic crossword clues
Graduate from easy to medium to difficult cryptic crosswords
Keep your brain fit and healthy
Complete cryptic crosswords with confidence!
Table of contents
Introduction 1
Part I: Diving Into the World of Cryptic Crosswords 5
Chapter 1: Introducing Cryptic Crosswords 7
Chapter 2: Untangling Anagrams 23
Chapter 3: Charade Clues: Piecing Together Linked Words  33
Chapter 4: Putting Words Inside Words 45
Chapter 5: Using Subtraction 53
Chapter 6: Examining Reversals 61
Chapter 7: Decoding Homophones 69
Chapter 8: Interpreting Double Definitions 79
Chapter 9: Revealing Hidden Words 89
Chapter 10: Letter Gathering: Abbreviations and Other Oddments 97
Chapter 11: Enjoying Cryptics Around the Globe 111
Part II: Sample Cryptic Crosswords 119
Chapter 12: Easy Peasy Cryptics 121
Chapter 13: Challenging Cryptics 139
Chapter 14: Treacherous Cryptics 149
Part III: Hints and Answers 159
Chapter 15: Hints 161
Chapter 16: Answers 167
Part IV: The Part of Tens 173
Chapter 17: Ten Tips for Being a Better Solver 175
Chapter 18: Ten (Plus Two!) Puzzling Resources 181
Appendix: Word Lists 187