Sustainable Transportation Planning: Tools for Creating Vibrant, Healthy, and Resilient Communities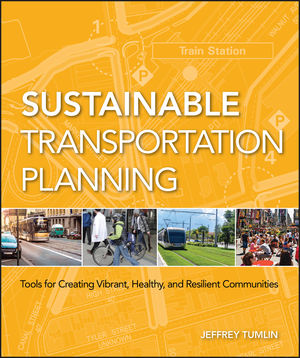 Sustainable Transportation Planning: Tools for Creating Vibrant, Healthy, and Resilient Communities
ISBN: 978-0-470-54093-0
Jan 2012
320 pages
Description
How to implement smart, sustainable transportation concepts
Developing sustainable urbanism is the most important environmental concern of the twenty-first century. However, while other planning-related disciplines have already joined forces to meet new sustainability challenges—for example, the LEED Neighborhood Development standard—transportation has not kept pace. Instead, transportation planning often defaults to a 1950s mindset, still favoring auto-oriented, one-size-fits-all solutions.
Sustainable Transportation Planning brings the discipline up to date, offering a big-picture approach to transportation systems. Using clear, nontechnical language, this guide provides step-by-step instructions for implementing smart transportation concepts in both large and small communities. Making this material accessible opens the door to greater participation in transportation planning by design and policy professionals, as well as citizen activists. The text also helps transportation professionals better understand and align their discipline within the broader movement toward sustainable urbanism.
Written by noted transportation planner Jeffrey Tumlin, Sustainable Transportation Planning features:
Consideration of bike, pedestrian, automobile, and mass transit modes, as well as how these modes interrelate
Applicability at varying scales, from a downtown street to a neighborhood to a regional network
Case studies that look at exemplary projects across North America
Detailed measures of success for both individual transportation modes and entire systems
Additional discussion of parking, station design, and congestion management
Working from a comprehensive definition of sustainability—one that encompasses economic, ecological, and social vitality—Sustainable Transportation Planning provides the definitive sourcebook for understanding and implementing the full range of modern community transportation systems.
Acknowledgments vii
Foreword ix
Chapter 1 Introduction 1
Why Transportation? 2
The Big Picture: Mobility vs. Accessibility 4
Structure of This Book 5
Chapter 2 Sustainable Transportation 7
What Is Sustainability? 7
Chapter 3 Transportation and Public Health 23
The Human Body 23
Does This McMansion Make Me Look Fat? 26
Danger, Will Robinson! 27
Anger, Will Robinson! 28
Health and Equity 29
Driving and Social Health 31
Transportation and Trust 31
Conclusions 33
Chapter 4 The City of the Future 35
Yesterday's Tomorrowland 35
Imagining the Sustainable City of the
Future 37
Chapter 5 Streets 45
Conceptualizing Streets 45
Principles of Street Design 48
Chapter 6 Pedestrians 51
Introduction 51
Pedestrian Planning Principles 51
Pedestrian Planning Tools 56
Pedestrian Design Tools 60
Measuring Pedestrian Success 69
Case Study: Marin County Safe Routes to Schools 71
Chapter 7 Bicycles 73
Introduction 73
Why Invest in Cycling? 73
Increasing Cycling 74
Key Cycling Principles 76
Design So That Everyone Will Enjoy Biking 81
Measuring Bicycle Success 101
Further Information 101
Chapter 8 Transit 105
Introduction 105
Transit Modes 106
Case Study: Los Angeles Metro Rapid 114
Case Study: Portland Streetcar 116
Case Study: San Diego Trolley 117
Design for Transit 121
Measuring Success 134
Case Study: Boulder, Colorado, Community Transit Network 136
Transit Planning Resources 136
Chapter 9 Motor Vehicles 139
Introduction 139
Designing for Cars 143
Design Manuals That Build upon Context 149
Design Guidance 151
Modeling Traffi c 166
Freeways 169
Chapter 10 Parking 173
Introduction 173
Parking Is Destiny 173
Parking Economics 101 175
Parking Tools 177
Parking Management Principles 181
Top Ten Parking Management Strategies 186
Chapter 11 Carsharing 205
Introduction 205
Types of Carsharing 206
Impacts 207
Where Carsharing Is Most Successful 208
Public Policies That Support Carsharing 212
Municipal Fleets 215
Jump-Starting a Program 216
Chapter 12 Stations and Station Areas 217
Introduction 217
Multimodal Access 219
Case Study: WMATA's Orange Line 232
Station Components 234
Case Study: BART Station Replacement Parking 236
Chapter 13 Transportation Demand Management 241
What Is Traffic Congestion and Why Does It Happen? 241
Planning for Reduced Traffic 244
Traffic Reduction: A How-To Guide 249
Chapter 14 Measuring Success 263
Definitions 263
How Performance Measures Are Used 264
How Performance Measures Are Misused 264
Measuring Success for Multiple Modes 270
Using Performance Measures to Balance Modes 270
Citywide Transportation System Measurements 277
Evaluating Project Alternatives 282
Additional Resources 285
Chapter 15 For More Information 287
Useful Online Resources 287
Required Reading 288
Useful Tools 289
Endnotes 297
Index 303
"He has written a compact, engaging, and approachable text that is ideally suited to bringing a diverse group of students up to speed on the topic and providing and a launching point for supplementary readings and discussions. This book provides an ideal overview of key issues, a helpful quick reference on design guidelines, and a long reading list for those interested in digging further into the subject." (ced.berkeley.edu, August 2012)
"Sustainable Transportation Planning is an outstanding, easy to navigate source for planners of all kinds, not just transportation specialists... is an ideal book for America's many citizen-planners." (Better! Cities & Towns, April-May 2012)
". . .Tumlin argues that on the whole, transportation planning has remained overly focused on engineering. If planners took a broader approach to how urban regions work, he contends, they could serve those places more economically and also enhance liveability." (Better! Cities & Towns, March 2012)
"Tumlin's book starts with a provocative chapter on recent research into brain chemistry, noting how excessive driving makes us anti-social and stupid. Conversely, more walking and biking contribute to making us happier, sexier, and smarter." (Ecohome, March 2012)
"Transportation planning and urban planning, mobility and accessibility don't have to be mutually exclusive anymore, and Tumlin's book is a good place to learn about sustainable transportation planning." (wrdforwrd.com, January 2012)