Teaching Naked: How Moving Technology Out of Your College Classroom Will Improve Student Learning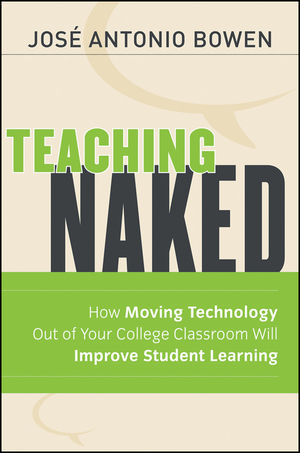 Teaching Naked: How Moving Technology Out of Your College Classroom Will Improve Student Learning
ISBN: 978-1-118-11035-5 July 2012 Jossey-Bass 352 Pages
Description
You've heard about "flipping your classroom"—now find out how to do it! Introducing a new way to think about higher education, learning, and technology that prioritizes the benefits of the human dimension. José Bowen recognizes that technology is profoundly changing education and that if students are going to continue to pay enormous sums for campus classes, colleges will need to provide more than what can be found online and maximize "naked" face-to-face contact with faculty. Here, he illustrates how technology is most powerfully used outside the classroom, and, when used effectively, how it can ensure that students arrive to class more prepared for meaningful interaction with faculty. Bowen offers practical advice for faculty and administrators on how to engage students with new technology while restructuring classes into more active learning environments.
Table of contents
Preface ix
About the Author xxi
PART I: The New Digital Landscape 1
1. The Flat Classroom and Global Competition 3
2. Social Proximity and the Virtual Classroom 27
3. Games, Customization, and Learning 51
PART II: Designing 21st-Century Courses 73
4. Designing College More Like a Video Game 75
5. Technology for Information Delivery 103
6. Technology for Engagement 129
7. Technology for Assessment 153
8. The Naked Classroom 185
PART III Strategies for Universities of the Future 215
9. The Educational Product in the Internet Age 217
10. The Naked Curriculum 243
11. The Naked Campus 267
Bibliography 289
Index 315
Reviews
"It's true that Bowen is interested in creating classroom space for interaction, discussion, reflection and engagement. But the book—part persuasion, part how-to—spends a great deal more time on what technology offers for the design of educational experiences.... Teaching Naked [is a] good introduction to some of the most notable and/or promising types of resources for higher education."
—Mary Taylor Huber, "Books Worth Reading" for Change magazine
Extra
TeachingNaked.com : Visit José Antonio Bowen's website to learn more about his ongoing work.