Textbook of Biological Psychiatry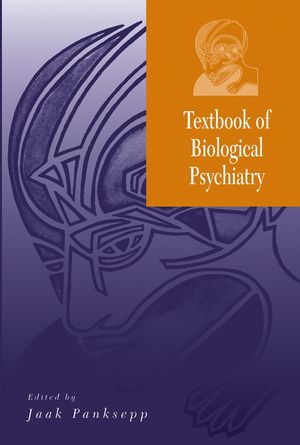 Textbook of Biological Psychiatry
ISBN: 978-0-471-46898-1 February 2004 736 Pages
Description
Not until the publication of the Textbook of Biological Psychiatry has the science of psychiatric disorders and clinical practice been seamlessly integrated in a modern text.

In this landmark volume, editor Jaak Panksepp assembles the perspectives of top scientists and clinicians who apply contemporary neuroscience to psychiatric issues. In each chapter, the book draws on a range of cutting-edge research areas-such as the biochemistry of neurotransmission, behavioral pharmacology, and the clinical aspects of psychiatric problems-to give you the most informed, practical overview of biological psychiatry available.

Featuring a cohesive, three-part organization, the Textbook of Biological Psychiatry begins with an incisive look at core concepts, from the role of stress, sleep, and sexuality in psychiatric disorders to the use of neuroimaging in psychiatry.

The Textbook then considers the biological mechanisms and treatment of those disorders that pose major psychiatric challenges, including:
* Depression
* Schizophrenia
* Posttraumatic stress disorder
* Panic disorders
* Obsessive-Compulsive disorder
* Childhood neuropsychiatric disorders
* Alzheimer's disease

Just as it distinguishes itself through a one-of-a-kind clinical approach to psychiatry, the Textbook of Biological Psychiatry also offers a unique outlook on the future of the field. Compiled here are the latest, forward-thinking insights in the treatment of anxiety and mood disorders, somatic treatments, sociophysiology, and more.

Taken together, the Textbook of Biological Psychiatry is more than the only new psychopharmacology reference that integrates the study of the human mind and brain with psychiatric clinical practice. It is an essential, accessible collection of insights from the field's preeminent researchers-one that covers the full arc of the discipline: past, present, and future.
Table of contents
Foreword.

Preface.

Contributors.

Part I: FOUNDATIONAL CONCEPTS.

1. BIOLOGICAL PSYCHIATRY SKETCHED--PAST, PRESENT, AND FUTURE (Jaak Panksepp).

2. IMAGING HUMAN EMOTIONS AND AFFECTIVE FEELINGS: IMPLICATIONS FOR BIOLOGICAL PSYCHIATRY (Mario Liotti and Jaak Panksepp).

3. NEURAL SUBSTRATES OF CONSCIOUSNESS: IMPLICATIONS FOR CLINICAL PSYCHIATRY (Douglas F. Watt and David I. Pincus).

4. STRESS, SLEEP, AND SEXUALITY IN PSYCHIATRIC DISORDERS (Terrence Deak and Jaak Panksepp).

5. PSYCHOBIOLOGY OF PERSONALITY DISORDERS (Brian Knutson and Andreas Heinz).

6. FUNCTIONAL NEUROIMAGING IN PSYCHIATRY (Johannes Tauscher, Nikolas Klein, and Shitij Kapur).

Part II: CORE PSYCHIATRIC CHALLENGES.

7. DEPRESSION: A NEUROPSYCHIATRIC PERSPECTIVE (Helen S. Mayberg).

8. TREATMENT OF MOOD DISORDERS (Pedro L. Delgado and Paul Zarkowski).

9. NEUROSCIENCE OF SCHIZOPHRENIA (Christine Pesold, Rosalinda C. Roberts, and Brian Kirkpatrick).

10. PHARMACOLOGICAL TREATMENT OF SCHIZOPHRENIA (Rajiv Tandon and Michael D. Jibson).

11. PSYCHOBIOLOGY OF POSTTRAUMATIC STRESS DISORDER (Bessel A. van der Kolk).

12. NATURE AND TREATMENT OF PANIC DISORDER (Fredric N. Busch and Barbara L. Milrod).

13. NATURE AND TREATMENT OF OBSESSIVE-COMPULSIVE DISORDER (Lisa A. Snider and Susan E. Swedo).

14. BIOLOGICAL BASIS OF CHILDHOOD NEUROPSYCHIATRIC DISORDERS (Bradley S. Peterson and Jaak Panksepp).

15. AGING AND DEMENTIA (Mark T. Wright, A. John McSweeny, and Amy Kieswetter).

Part III: FUTURE PROSPECTS.

16. EMERGING NEUROSCIENCE OF FEAR AND ANXIETY: THERAPEUTIC PRACTICE AND CLINICAL IMPLICATIONS (Jaak Panksepp).

17. SOMATIC TREATMENTS IN PSYCHIATRY (Ziad Nahas, Jeffrey P. Lorberbaum, Frank A. Kozel, and Mark S. George).

18. PSYCHOANALYSIS AND PSYCHOPHARMACOLOGY: ART AND SCIENCE OF COMBINING PARADIGMS (Marcia Kaplan).

19. DEPTH PSYCHOLOGICAL CONSEQUENCES OF BRAIN DAMAGE (Oliver H. Turnbull and Mark Solms).

20. SOCIOPHYSIOLOGY AND EVOLUTIONARY ASPECTS OF PSYCHIATRY (Russell Gardner, Jr. and Daniel R. Wilson).

21. FUTURE OF NEUROPEPTIDES IN BIOLOGICAL PSYCHIATRY AND EMOTIONAL PSYCHOPHARMACOLOGY: GOALS AND STRATEGIES (Jaak Panksepp and Jaanus Harro).

Appendix A: PHARMACODYNAMICS AND PHARMACOKINETICS (Jaanus Harro).

Index.
Reviews
"This book is a must for the library of every medical school, basic medical science facility, and psychiatric hospital...useful for students, teachers, and practitioners." (
American Journal of Psychiatry
, March 2005)
"…an ambitious volume, covering a broad swath of important recent research…will undoubtedly appeal to those with research interests in the neuroscientific aspects of psychiatry…" (Journal of the American Medical Association, Vol. 291, No. 17, May 5, 2004)
"I would recommend this book as a highly current resource summarizing our knowledge concisely and accurately, pointing to future avenues with great optimism and mastery, and painting an overall very bright view of the team effort that has brought us to our current state." (Journal of Clinical Psychiatry, August 2004)