The Art of Critical Making: Rhode Island School of Design on Creative Practice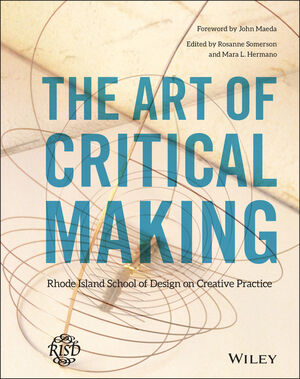 The Art of Critical Making: Rhode Island School of Design on Creative Practice
ISBN: 978-1-118-51786-4
Sep 2013
272 pages
Description
As the world grows increasingly complex and fast-paced, with global issues impacting us all, making, materials, and meaning are critical. The kind of essential knowing that we develop at RISD—informed through our hands, through our bodies, and in the creation of works, experiences, and events—is more cogent than at any other time. Artists and designers hone the capacity to generate something from deep inside ourselves to live outside of ourselves. By residing in the experiential and the physical, and by developing the "hands-on" as a portal of intelligent learning, we confirm the mind as maker and making as a state of mindfulness. We demonstrate how artists and designers are hosts for enduring creative discovery that is self-initiated and actively engaged. In short, artists and designers manifest what has not existed previously—in many cases, what has never even been imagined.
—RISD PROVOST ROSANNE SOMERSON, EXCERPT FROM THE INTRODUCTION
I believe that art and design have critical roles to play in innovation in this next century, much like science and technology did in the last. The very methods revealed in this book will drive the new ideas, movements, and solutions that will help us tackle the complex problems of our day.
—RISD PRESIDENT JOHN MAEDA, EXCERPT FROM THE FOREWORD
Foreword J 5
John Maeda
Preface 11
Frank R. Wilson
The Art of Critical Making: An Introduction 19
Rosanne Somerson
Groundwork 32
Leslie Hirst
Text and Context: Outward in All Directions 52
Daniel Cavicchi
Conversation: Drawing 74
Patricia C. Phillips
Thingking 94
John Dunnigan
Object Lessons 116
Sarah Ganz Blythe
Conversation: Materials 138
Kelly Dobson
Graphic Design, Storytelling, and the Making of Meaning 164
Lucinda Hitchcock
The Nature Imperative 190
Neal Overstrom
Conversation: Critique 210
Eva Sutton
Acting into the Unknown 230
Pradeep Sharma
Afterword 245
Mara L. Hermano
ACKNOWLEDGMENTS 251
CONTRIBUTORS 253
ILLUSTRATIONS 261
INDEX 265