The Leadership Gap: Building Leadership Capacity for Competitive Advantage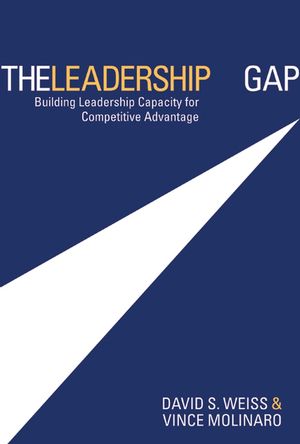 The Leadership Gap: Building Leadership Capacity for Competitive Advantage
ISBN: 978-0-470-83568-5
Apr 2005, Jossey-Bass
320 pages
Product not available for purchase
Description
Praise for The Leadership Gap
"The Leadership Gap is a truly comprehensive and practical book on how to bridge the emerging leadership gap between today's and tomorrow's realities. Its basic premise that both the individual and the organization must transform for future leadership is both unique and holistic. Weiss and Molinaro provide lots of useful insights and anecdotes on leadership in a very readable manner."
—Jagdish N. Sheth, Charles H. Kellstadt Professor of Marketing, Goizueta Business School, Emory University; and Co-Author of Clients for Life and The Rule of Three
"This book is a superb contribution to leadership breakthroughs. Dr. Weiss and Dr. Molinaro take us beyond best practice into the world of the 'leadership economy.' This seminal work represents a turning point in our ability to analyze and deliver leadership for competitive advantage. Within, you will find key ingredients for great leadership success. It is a must read for all leaders—existing and aspiring."
—Eugene Roman, Group President, Bell Canada
"A powerful source of insights on the leadership imperative in a fast-forward world. The Leadership Gap addresses the most burning issues facing organizations today. It provides an effective roadmap for building leadership capacity. It is a must read for senior executives and HR professionals.
—Prem Benimadhu, Vice President, Organizational Performance, The Conference Board of Canada
"Two thumbs up! A must read for leaders, human resources professionals and any practitioner who truly believes in leadership as a competitive advantage and is seeking invaluable guidance for making that real in their respective organizations."
—Lynn Evans, Vice President, Human Resources, EDS
"This unique book confronts the challenge of the leadership gap from the leader's and the organization's perspective. Weiss and Molinaro provide insight into the critical success factors for meeting the leadership gap with innovative frameworks, relevant real-life examples, important linkages, and useful graphics. The Leadership Gap is a comprehensive 'must-read' for all of us concerned with the evolution and development of leadership theory and practice in complex organizations."
—George C.B. Smith, Senior Vice-President, Human Resources and Organization, CBC/Radio-Canada
Preface.
Acknowledgements.
PART ONE: THE BUSINESS IMPERATIVE.
Chapter One. Mission Critical.
Chapter Two. Bridging The Leadership Gap.
PART TWO: THE LEADER'S RESPONSE.
Chapter Three. Holistic Leadership: An Overview.
Chapter Four. Customer Leadership.
Chapter Five: Business Strategy.
Chapter Six. Culture and Values.
Chapter Seven. Organizational Leadership.
Chapter Eight. Team Leadership.
Chapter Nine. Personal Leadership.
PART THREE: THE ORGANIZATION'S RESPONSE.
Chapter Ten. Leadership Capacity Implementation: An Overview.
Chapter Eleven. Embedding Leadership In The Organization.
Chapter Twelve. Focus on Critical Positions and Key Talent.
Chapter Thirteen. Integrated Leadership Development.
Chapter Fourteen. Accountability For Leadership Capacity.
Chapter Fifteen. The Leadership Economy.
Index.
About the Authors.
About Knightsbridge.