The Nanotech Pioneers: Where Are They Taking Us?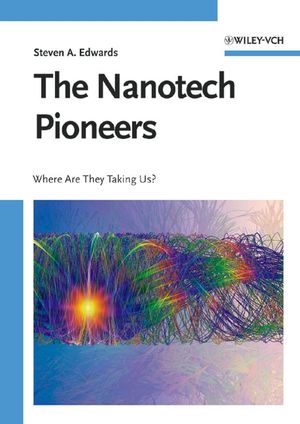 The Nanotech Pioneers: Where Are They Taking Us?
ISBN: 978-3-527-31290-0 February 2006 257 Pages
Description
The nanometer scale is where physicists, chemists, biologists, materials scientists and engineers met to create a new technology - nanotechnology. Scarcely imagined a few decades ago, it will certainly dominate the 21st century and affect our lives in ways not yet fully predictable. By definition, nanotech is far too small to be visible to the human eye, and so its effects may well catch us by surprise.

Although nanotech still has a science-fiction aura, there are actually consumer products already available which employ nanotech - sunscreen, paint, tennis balls, non-staining fabrics, and some recently approved drugs.

The variety of new products and technologies that will spin out of nanoscience is limited only by the imagination of the scientists, engineers and entrepreneurs drawn to this new field - the Nanotech Pioneers. Steve Edwards presents nanotechnology and its leading makers in an easily understandable fashion, suited for all readers regardless of academic background, but with enough facts and details to separate the hype from the real nanotech that is just around the next corner:

- superior materials - stronger, lighter, harder, better
- smart drugs that specifically target infected or malicious cells
- life-like prosthetics, such as limb, joint or organ replacements, even artificial eyes
- brain/computer interfaces
- new computer architectures with immense capacities and abilities
- new kinds of power sources that lessen our fossil fuel dependence

With this book, Steven Edwards brings nanotechnology closer to the science-interested general public as well as scientists, students, organizations, journalists, politicians, and entrepreneurs.
Chapter 1: The Promise of Nanotechnology
DEFINING NANOTECHNOLOGY
TOP-DOWN VERSUS BOTTOM-UP MANUFACTURING
WHAT IS IN SOOT? -
DIFFERENT FORMS OF CARBON
AN ALTERNATIVE NATURE
MONEY MAKES THE WORLD GO 'ROUND
WHO KNOWS ABOUT NANO?
THE PROMISE OF NANO
SKEPTICS
CONTEMPORANEOUS HISTORY

Chapter 2: The Visionaries
RICHARD FEYNMAN
K. ERIC DREXLER
RALPH MERKLE
RAY KURZWEIL
CRITICISM OF THE DREXLERIAN VISION
JAMES VON EHR
MIKE ROCO

Chapter 3: On the Road to Nano-
LITHOGRAPHY
MOLECULAR BIOLOGY
SUPRAMOLECULAR CHEMISTRY

Chapter 4: Nanotools
THE ELECTRON MICROSCOPE
SCANNING PROBE MICROSCOPES: STM, AFM AND VARIANTS THEREOF
ANGSTROVISION
NANOMANIPULATORS

Chapter 5: Nanoparticles and Other Nanomaterials
DISCOVERING THE BUCKYBALL
CARBON NANOTUBES
DENDRIMERS
Antibodies and anti-antibodies
Dendrimers as sensors
Dendrimers as Drugs
Dendrimeric Displays
QUANTUM DOTS
Colloidal Quantum Dots
Quantum Dots in Biology and Medicine
Quantum Dots in Electronics

Chapter 6: Learning From Old Mother Nature
THE GECKO'S FOOT
THE EYE OF THE STARFISH---THE OPTICAL NETWORK OF THE SPONGE
THE ABALONE'S SHELL
DIATOMS-THE ORIGINAL SILICON CHIPS
NATURAL NANOTUBES
SYNTHETIC NERVE MEMBRANES
CO-OPTING BIOLOGY




Chapter 7: Nanoelectronics
SPINTRONICS
NANOTUBE MEMORY CHIPS: NRAM
NANOWIRES
THIN FILMS OF GLOWING POLYMERS
NANOROBOTICS

Chapter 8: Nanotech Enabled Biomedicine
Stages
DELIVERING DRUGS
MEDICAL IMAGING-X-Ray Tubes
MAKING THE WORLD SAFE FOR MRI (PLUS SOME OTHER STUFF)
Other Contrast Agents
NANOSHELLS FOR THERAPY
PUMPS
THE STRANGE CASE OF NANOBACTERIA
MEDICAL DIAGNOSTICS
Smart Dust
Nanoarrays for Biomedical Assays
MOVING WATER AROUND, A LITTLE AT A TIME
NANOSCALE ANTENNA CONTROLS DNA
ARTIFICIAL JOINTS
ARTIFICIAL ORGANS
The Artificial Retina
Brain/Machine Interface
ARTIFICIAL CELLS
RE-INVENTING BIOLOGY

Chapter 9: Financing Nanotech Dreams
CHARLIE HARRIS, VENTURE CAPITALIST
IMPLEMENTING THE NATIONAL NANOTECH INITIATIVE

Chapter 10: Mega-Sized Projects that Could Use Tiny Technology--Three Somewhat Grandiose Challenges
ENERGY-INDEPENDENCE FROM FOSSIL FUELS
Green energy
THE SPACE ELEVATOR
BUILDING A QUANTUM COMPUTER
How do you build a quantum computer?

Chapter 11: Fear of Nano--Dangers and Ethical Challenges
THE GREY GOO SCENARIO
THE GREEN GOO SCENARIO
ENVIRONMENTAL CATASTROPHE DUE TO INHALEABLE OR INGESTIBLE NANOPARTICLES
PEOPLE WILL LIVE FOREVER LEADING TO OVERPOPULATION
ONLY RICH PEOPLE WILL LIVE FOREVER
NANOTECHNOLOGY WILL TURN US INTO CYBORGS
NANOTECHNOLOGY COULD CREATE WEAPONS OF MASS DESTRUCTION
NANOTECH WILL CREATE MACHINES THAT ARE SMARTER THAN HUMAN BEINGS
NANOTECH WILL HASTEN THE ARRIVAL OF THE SINGULARITY
REGULATING NANOTECH
Chapter 12: Final Thoughts on The Destination
"A vivid and realistic look at nanotechnology, written by an insider and experienced science writer, providing a view of how this new field will affect people in the near future. The author looks at the social, political and economic changes involved."
Enviromental Science and Polution Research

"In a very easy going journalistic style the author takes the reader on a journey through the subject touching on current technology, which is already having an impact on our lives, to future technology... The author has clearly taken time to talk to leaders in the field and as a result the book is full on interesting quotes and analogies ... In summary, if you have a passing interest in nanotechnology and fancy a light read as well as a change from scaremongering and ill informed nanotechnology-related novels I would fully recommend this book." Chemistry World

"Edwards writes with such passion that it is hard not to be infected with the nanotech bug. His words fill the reader with optimism that nanotechnology really is the next big thing." The Lancet

"... the author gives an excellent overview of the development of nanotechnology and the pioneers themselves explain their social, political and economic background. ...provides a realistic view of this new technology giving easy-to-understand explanations of every key concept. Therefore, the author offers a plain and non-technical guide to the field of nanotechnology. This is an easy-to-understand introduction to nanotechnology. Hence, the book is recommendable to all experimental natural scientists in academic organizations as well as in industry. It is a brief, simple, almost math-free introduction, easy to understand and in no way boring." Engineering in Life Sciences

"Anyone who has even a slight interest in science topics should read this book!" Measurement & Control

"... the author appears to be a real human being, and his book is certainly worth reading."
Chemistry and Industry

Buchnennung i.d. Rubrik "Also of interest" in: Chemical & Engineering News

"In conclusion, Edward's book is a good introduction to the huge and confusing field of nanotechnology. It is well written and contains a wealth of information, often in the form of simple tables, which can be useful for undergraduate and PhD students, as well as for teachers interested in where we are and where we are going to be. Which, unfortunately, is not where we should go."
Angewandte Chemie

"... clear...readily comprehensible to a general readership..." Nature Nanotechnology

"...the book is recommendable to all experimental natural scientists in academic organizations as well as in industry. It is a brief, simple, almost math-free introduction, easy to understand and in no way boring."
Engineering in Life Sciences