The Power to Compete: An Economist and an Entrepreneur on Revitalizing Japan in the Global Economy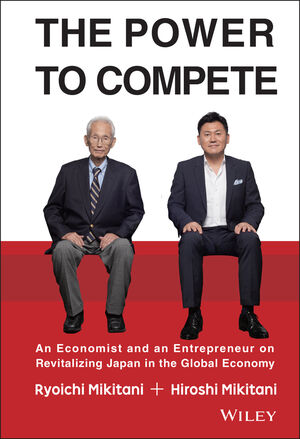 The Power to Compete: An Economist and an Entrepreneur on Revitalizing Japan in the Global Economy
ISBN: 978-1-119-00060-0
Nov 2014
240 pages
Description
A Penetrating, Sensitive, and Engaging Analysis of the Road to a Brighter Future for Japan
The Japanese economy needs a jump-start. This is not an indictment, but rather an honest assessment of reality. The Power to Compete is a conversation between two of the men most qualified to discuss the situation: a CEO of one of the world's largest Internet companies and his father, a leading international economist and longtime Kobe University professor.
Between Hiroshi and Ryoichi Mikitani, there is a depth of understanding—both of global issues and of the Japanese identity—that makes their conversations stimulating, informative, and even transformational. In each chapter of The Power to Compete, father and son tackle complex issues with intelligence and humor, arriving at a series of recommendations for the future that have the power to inspire a generation of readers to work for a more prosperous Japan. Their ideas are ambitious, wide-ranging, and often controversial, but they aren't shy about presenting them.
Internationally, Japan has a reputation of resisting foreign ideas and isolating itself from progress. To change this image and cure "the Japan Disease," members of all generations need to work together. The Power to Compete is an inspiring book that will show you how to take the history and traditions of Japan onto the global stage.
"Hiroshi Mikitani is not only an important business leader in Japan, but, along with his late father, Ryoichi, someone who has done a tremendous amount of strategic thinking on the Japanese economy, its history and its recovery. Mikitani-san is a shining example for up and coming innovators and entrepreneurs across Japan who will be critical to Japan's economy and, in turn, the U.S.-Japan relationship for years to come."
— John V. Roos, former U.S. Ambassador to Japan
"Ryoichi Mikitani was one of Japan's most thoughtful and probing economists, and Hiroshi is today probably Japan's most dynamic entrepreneur. And Ryoichi clearly passed on to his son a deep Japanese patriotism in the finest sense. Everyone who wishes Japan well should hope that the ideas they shared will receive the widest attention among the country's government and people."
— Benjamin M. Friedman, William Joseph Maier Professor of Political Economy, Harvard University, and author of The Moral Consequences of Economic Growth
Introduction Japan Again ix
Chapter 1 The Power to Innovate 1
Japan Again 1
The Keys to Revitalizing Japan 4
Keidanren's Raison D'̂etre 7
The Nature of Innovation 11
Schumpeter's Contribution 15
Building Infrastructure 19
Business Innovation 23
Summary 27
Chapter 2 The Power to Operate 29
Workforce Fluidity 29
Privatization 33
Lifetime Employment 37
Escaping Lifetime Employment 40
Immigration Problems 43
Why English Needs to Be a Common Language in Japan 45
Growing the Population 50
Summary 53
Chapter 3 The Power in Questioning Abenomics 55
History of Abenomics 55
Independence in Finance 59
The Optimal Inflation Rate 62
Halting the Rise of Interest Rates 65
What to Do About Our 1-Quadrillion-Yen Debt 67
The Pros and Cons of Abenomics 70
Summary 75
Chapter 4 The Power of the Low-Cost State 77
The High Cost of Governance 77
How to Reform the High-Cost Structure 83
Addressing the Japanese Disease 87
The United States and Individualism 92
The Impotent Bureaucracy 95
Internationalizing the Bureaucracy 99
Creating Think Tanks 103
Political Appointees 106
What It Will Take to Improve the Bureaucracy 109
Summary 111
Chapter 5 The Power to Succeed Overseas 113
The Decline in the Number of Students Studying Abroad 113
Escaping from the Galapagos Effect 118
The Future of Journalism 121
Media in the Internet Era 125
The Importance of Liberal Arts 131
Ryoichi Mikitani's Experiences Abroad 134
Summary 137
Chapter 6 The Power to Educate 139
Uniform Japanese Education 139
The Education of the Mikitani Family 141
What the Education System Needs 146
Higher Education 151
What People Study in University 154
The Founding of Rakuten 157
The Evaluation System for Teachers 160
The Need for Strategy in the Japanese Education System 162
Summary 168
Chapter 7 The Power to Build Brand Japan 169
Brand Power 169
The Demonstration Effect 174
Brand Value at the National Level 178
Foreign Nationals Working in Japan 183
Making Japan Attractive to Foreign Nationals 186
Japan and the Trans-Pacific Partnership 189
Summary 195
Conclusion What Is the Power to Compete? 197
Japan Uniquely Incorporates and Interprets Cultures 197
Competitiveness as a Platform 200
The Global Logistics Revolution 202
Summary 205
Epilogue 207
Acknowledgments 211
Index 213