The Social Media Bible: Tactics, Tools, and Strategies for Business Success, 3rd Edition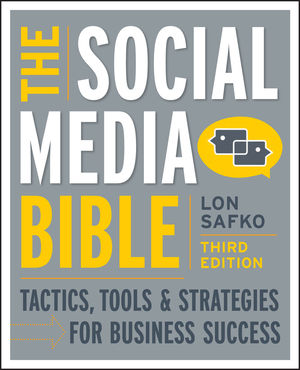 The Social Media Bible: Tactics, Tools, and Strategies for Business Success, 3rd Edition
ISBN: 978-1-118-26974-9 April 2012 640 Pages
Description
Praise for The Social Media Bible
"The social media phenomenon is still ramping up, and this book provides useful and timely business advice."
—Vint Cerf, Father Of The Internet
"Social media and customer care are rapidly coming together. The Social Media Bible is a must-read for any professional who wants to stay on top of this rapidly changing topic. From the basics to long-term social media strategy, this is the only resource book to have on your desk."
—Scott Ross, Senior Vice President, Sales and Marketing, NCO Group, INC.
"Lon Safko and The Social Media Bible address the key questions—Why should I take part in social media? How should I take part? How do I reap the greatest benefits?—while also providing the push to take the next step."
—Jeff Hagen, Director, Consumer Services, General Mills
"Lon Safko is a serial technologist who really understands social media and is also blessed with the gift of being a great communicator. His book deftly takes you from 'Social Media 101' all the way to PhD status in a format that is easy to browse, informative, and powerful."
—Tom Asher, Director, Consumer Relations, North America, Levi Strauss & Co.
"Effectively harnessing the power of social media is a top priority in corporate America. The Social Media Bible, with its informative and tactical approach, provides an easy-to-follow road map for how to do social media right."
—Todd Simon, Senior Vice President, Omaha Steaks
The Social Media Bible, Third Edition delivers the most comprehensive single resource available for marketing in the social media universe. This newly revised Third Edition offers technology updates to the iPad, apps, Foursquare, and other geotargeted networks. New case studies demonstrate how businesses have successfully implemented these strategies, using the newest social media tools. This new edition delivers:
Updates and changes to Google's search engine algorithms

More information on plug-ins, widgets, apps, and integration

Updates on Twitter and Yammer and new information on Google+

The latest in mobile marketing
Table of contents
Acknowledgments vii
Introduction xi
Part I Tactics and Tools
Chapter 1 What Is Social Media? 3
Chapter 2 Say Hello to Social Networking 25
Chapter 3 It's Not Your Father's E-Mail 61
Chapter 4 The World of Web Pages 85
Chapter 5 The Internet Forum 117
Chapter 6 The Ubiquitous Blog 141
Chapter 7 The Wisdom of the Wiki 167
Chapter 8 A Picture Is Worth a Thousand Words (Photo Sharing) 187
Chapter 9 Talking about the Podcast (Audio Create) 207
Chapter 10 Got Audio? (Audio Sharing) 233
Chapter 11 Watch Out for Vlogs (Video Create) 253
Chapter 12 Got Video? (Video Sharing) 273
Chapter 13 Thumbs Up for Microblogging 289
Chapter 14 Live from Anywhere—It's Livecasting 317
Chapter 15 Virtual Worlds—Real Impact 339
Chapter 16 Gaming the System: Virtual Gaming 371
Chapter 17 RSS—Really Simple Syndication Made Simple 397
Chapter 18 Spotlight on Search (Search Engine Optimization) 411
Chapter 19 Marketing Yourself (Search Engine Marketing) 441
Chapter 20 The Formidable Fourth Screen (Mobile) 457
Chapter 21 Let the Conversation Begin (Interpersonal) 487
Part II Strategy: The Five Steps to Social Media Success
Chapter 22 Analyze Your Existing Media 539
Chapter 23 The Social Media Trinity 551
Chapter 24 Integrate Strategies 565
Chapter 25 Identify Resources 577
Chapter 26 Implement and Measurement 589
Index 601