Feminism and Criminology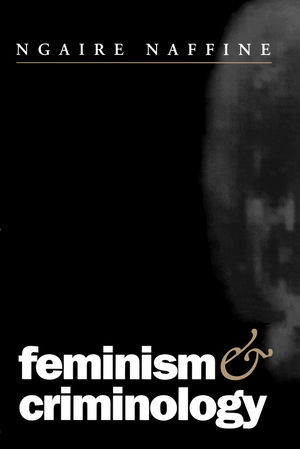 Feminism and Criminology
ISBN: 978-0-745-68329-4 March 2014 Polity 208 Pages
Description
This much-needed book is a concise and accessible account of the contribution of feminist thinking to the study of crime. Tracing the intellectual history of criminology from its scientific foundations in the nineteenth century to its recent encounters with postmodernism, Naffine discusses the ways in which the discipline has established its priorities and values, and shows how men became and remain the central interest of the discipline. Criminologists, she argues, are still reluctant to engage with feminist scholarship which questions their agenda.
Naffine argues that for several decades feminists from a variety of disciplines have been studying crime, producing increasingly refined and sophisticated understandings of the phenomenon. Their interests have ranged widely, from the effects of masculinity and femininity on the propensity to offend, to the ways in which class and race affect the gender dimension of crime. They have pursued difficult questions about the nature of knowledge and the meanings of human behaviour in men and women.
Naffine analyses the treatment of women offenders by the criminal justice system, and women as victims of crime - especially violent crime - and argues for a different understanding of sexual relations between men and women within the crime of rape. Finally, she examines how feminist detective fiction can enliven and enhance the study of crime.
Provocative and well-argued, this timely book will be welcomed by students and researchers in women's studies, gender studies, criminology, sociology and law.
Table of contents
Introduction.
Part 1: A Feminist History of Criminology. .
1. The Scientific Origins of Criminology.
2. The Criminologist as Partisan.
3. Examining our Frames of Reference: Realism to Derrida.
Part 2: Effecting Change.
4. Reinterpreting the Sexes (through the Crime of Rape).
5. Relocating the Sexes (through Crime Fiction).
6. An Ethical Relation.
Notes.
Bibliography.
Index.
Reviews
"This is both a significant and intelligent contribution to the transformation of criminology by one of the most challenging feminist theorists working in the field."
Carol C. Smart, University of Leeds
"This thought-provoking book challenges the dominant criminological tradition from a feminist perspective. But it is more than a polemical argument about what is omitted and silenced in that tradition. It is both an intellectual history of criminology, told in an accessible way and a book of feminist jurisprudence that will be of interest to students and scholars working in that area. The book offers a new way of seeing, a new paradigm for feminist criminology, addressed to criminologists in general, inviting them to break out of the prison of their own masculine standpoints and conventional scholarship." Katherine O'Donovan, University of London
"The book provides an excellent synthesis of ideas relating to the relationship between feminism and criminology ... essential ... for its detailed exploration of the intellectual relationship between feminism and criminology ... Extremely important in stimulating critical thinking about current directions and reflections in feminism and criminology." International Law
Features
* A concise and much-needed account of the relevance of feminism into the study of crime.
* Provides new perspectives on a field traditionally dominated by men.
* Will appeal to a wide audience in women's studies/feminism, sociology, criminology and law.