The British Press and Broadcasting Since 1945, 2nd Edition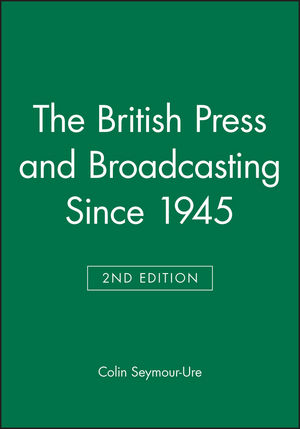 The British Press and Broadcasting Since 1945, 2nd Edition
ISBN: 978-0-631-19883-3 April 1996 Wiley-Blackwell 304 Pages
Description
This second edition of Colin Seymour-Ure's history of the press and broadcasting in post-war Britian offers a concise and fully up-to-date overview of the development of the media and its central role in British society.
Table of contents
List of Tables.
General Editor's Preface.
Preface to First Edition.
Preface to Second Edition.
1. Snapshot: 1945/1998.
2. Which Media? What History?.
3. Media 1945-1995: the Press.
4. Media 1945-1995: Radio and Television.
5. Media Empires: Concentration, Conglomeration, Internationalization.
6. Content and Audiences.
7. Media, Government and Politics: the Intrusion of Television.
8. Media, Government and Politics: Prime Ministers and Parties.
9. Media Accountability: Government Policymaking.
10. Media Accountability: Markets, Self-Regulation and the Law.
11. Conclusion.
Appendix: Provincial Evening Papers.
Outline Chronology.
Bibliography.
Index.
Reviews
"... this is a quite remarkably useful book. Something of a
tour de force.
"
Polticial Studies
"The whole book is written with authority and detachment ....a model of comprehensiveness, conciseness and clarity." Parliamentary Affairs
"... a welcome additional resource for students from a range of subject areas." Sociology
Features
* Author is leading authority in this field.
* Provides discussion of globalization and continuing issues of media accountability.
* Includes new and fully-updated statistical tables.