Early Jurassic pterosaur Dorygnathus banthensis (Theodori, 1830) and The Early Jurassic pterosaur Campylognathoides Strand, 1928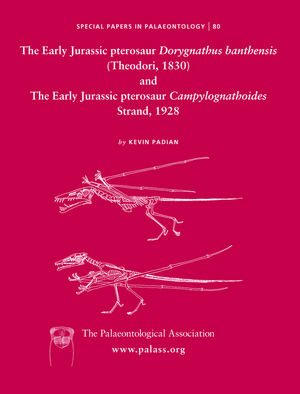 Early Jurassic pterosaur Dorygnathus banthensis (Theodori, 1830) and The Early Jurassic pterosaur Campylognathoides Strand, 1928
ISBN: 978-1-405-19224-8 February 2009 Wiley-Blackwell 108 Pages
Description
Provides a review of the history of the understanding of Dorygnathus, a description of the known specimens in public repositories and an assessment of the general morphology and systematic position of the genus.
Table of contents
Abstract.
Introduction.
Historical review.
Early work.
Later work.
Recent work.
Fauna and stratigraphy of the Posidonienschiefer.
Systematic palaeontology.
Genus Dorygnathus.
Dorygnathus banthensis (Theodori, 1830).
Description of specimens.
Dorygnathus 'mistelgauensis' World, 1971.
General skeletal morphology and comparisons.
Skull.
Vertebral column.
Shoulder girdle.
Forelimb.
Pelvis.
Hindlimb.
Phylogenetic placement.
Functional morphology and palaeoecology.
Conclusions.
Acknowledgements.
References