Global Governance: Why? What? Whither?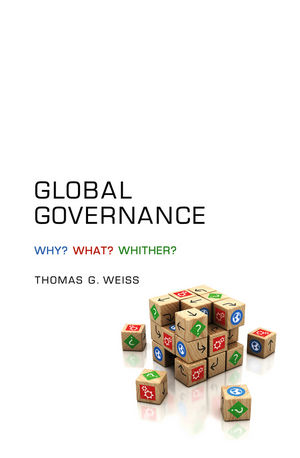 Global Governance: Why? What? Whither?
ISBN: 978-0-745-67006-5 July 2013 Polity 180 Pages
Description
Friends and foes of international cooperation puzzle about how to explain order, stability, and predictability in a world without a central authority. How is the world governed in the absence of a world government?

This probing yet accessible book examines "global governance" or the sum of the informal and formal values, norms, procedures, and institutions that help states, intergovernmental organizations, civil society, and transnational corporations identify, understand, and address trans-boundary problems. The chasm between the magnitude of a growing number of global threats - climate change, proliferation of weapons of mass destruction, terrorism, financial instabilities, pandemics, to name a few - and the feeble contemporary political structures for international problem-solving provide compelling reasons to read this book. Fitful, tactical, and short-term local responses exist for a growing number of threats and challenges that require sustained, strategic, and longer-run global perspectives and action. Can the framework of global governance help us to better understand the reasons behind this fundamental disconnect as well as possible ways to attenuate its worst aspects? Thomas G. Weiss replies with a guardedly sanguine "yes".
Table of contents
Tables and Figures vi
Abbreviations vii
About the Author x
Foreword by Craig N. Murphy xi
Acknowledgments xiii
Introduction 1
1 Why Did Global Governance Emerge? 8
2 What Is Global Governance? 27
3 What Are Global Governance Gaps? 45
4 Knowledge Gaps 62
5 Normative Gaps 84
6 Policy Gaps 106
7 Institutional Gaps 127
8 Compliance Gaps 149
9 Whither Global Governance? 169
Notes 186
Selected Readings 211
Index 214
Reviews
"If you are trying to understand and improve global policy, this is the place to start. Weiss takes the major issues on the global agenda and subjects them to a rigorous five-fold analysis that lets us see where the greatest gaps in the policy process really are. Some may be surprised to learn that the biggest problem may not be the lack of enforcement of global norms within our system of separate sovereign states. Rather, it may be our inability to understand the causes of many of today's global problems. This is great food for thought with lots of suggestions for practical action."
Craig N. Murphy, Wellesley College and University of Massachusetts Boston
"The most cogent, compelling, and engaging text yet written on this notoriously slippery and mystifying topic. Weiss knows the subject like few others and his passions and insights make for a page-turner. This book is a must read for anyone - student, scholar, and practitioner alike - interested in working out how the contemporary world is governed and how to make it a better place.
Rorden Wilkinson, University of Manchester


"
Global Governance
works across so many levels. It is a terrific summary of the history of the concept. It is a terrific synthesis of debates and perspectives. It also represents a stand-alone statement of how the past shapes and reshapes what sort of global governance is possible and desirable. As expected from the scholar who has done so much to put the concept on the table and contributed to our understanding, Weiss is the ultimate guide."
Michael Barnett, George Washington University

"Weiss is probably the most productive and reliable specialist on the UN, international organisations and global government."
Survival


"This book will be of interest to those who study human rights because Weiss considers the promotion and protection of human rights, including the Responsibility to Protect as a key example to support his overall argument." (Human Rights Review 2015)