Special Papers in Palaeontology, Number 72, Lower Jurassic Floras from Hope Bay and Botany Bay, Antarctica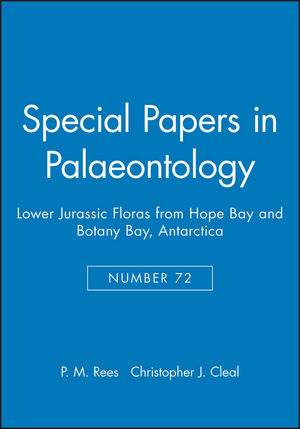 Special Papers in Palaeontology, Number 72, Lower Jurassic Floras from Hope Bay and Botany Bay, Antarctica
ISBN: 978-0-901-70283-8 December 2004 Wiley-Blackwell 96 Pages
Description
Special Papers in Palaeontology
, published by The Palaeontological Association, is a series of substantial separate works conforming to the style of the
Palaeontology
journal. Two issues are published each year and feature high standard illustrations.
This issue investigates the Hope Bay and Botany Bay, Graham Land, Antarctica which have yielded two of the most diverse floras known from the Jurassic.
Presents a major revision of the Hope Bay flora, based on extensive subsequent collections.
Brings together researchers, geologists and enthusiasts who continue to find material of significance.
Highlights the need for reappraisal of a number of other Mesozoic Gondwanan floras that have been dated mainly on their close similarity to the Hope Bay flora.
Includes 20 plates, 2 tables and 9 text-figures.
Table of contents
Abstract.
1. Material And Methods.
2. Systematic Palaeontology.
2.1 Division Equisetophyta.
2.2 Division Pteridophyta.
2.3 Division Gymnospermophyta.
3. Age Of The Hope Bay And Botany Bay Floras.
4. Palaeoenvironment And Palaeoclimate.
5. Conclusions.
References.